Are scallops one of the healthiest seafood to eat? Best scallops recipe – nutrition, benefits and more.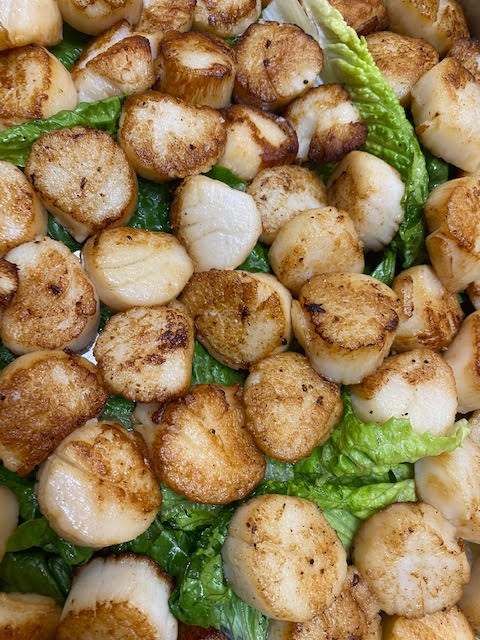 Scallops are a type of shellfish eaten all over the world. They live in saltwater environments and are caught in fisheries off the coasts of numerous countries. The so-called adductor muscles inside their colorful shells are edible and sold as seafood. When prepared correctly, they have a slightly sweet taste and a tender, buttery texture. This scallops recipe is highly nutritious and may have impressive health benefits. Like most other fish and shellfish, scallops have an impressive nutritional profile.
Three ounces (84 grams) of steamed scallops pack ( 1 ):
– Calories: 94
– Carbs: 0 grams
– Fat: 1.2 grams
– Protein: 19.5 grams
– Omega-3 fatty acids: 333 mg
– Vitamin B12: 18% of the recommended daily value (DV)
– Calcium: 9% of the DV
– Iron: 15% of the DV
– Magnesium: 12% of the DV
– Phosphorous: 27% of the DV
– Potassium: 12% of the DV
– Zinc: 18% of the DV
– Copper: 12% of the DV
Scallops are an excellent source of several trace minerals, including selenium, zinc and copper. These minerals are important to human health, yet some people may not get enough of them. Adequate selenium intake promotes a healthy immune system and proper thyroid function. Zinc is necessary for brain function and healthy growth, and copper may protect against diabetes and heart disease.
Including scallops in your diet can provide you with these important trace minerals, as well as high-quality protein and anti-inflammatory omega-3 fatty acids.
So yes, scallops are one of the healthiest seafood to eat and here is how our Mangia Culinary team made the scallops today on our daily specials menu:
Ingredients:
– 30 large sea scallops, trimmed if needed
– Sea salt and freshly ground white pepper
– Olive oil for sautéing
For the lemon beurre blanc: 
– 1 Tbs. fresh lemon juice
– 1 Tbs. dry white vermouth or wine
– 1 small shallot, minced
– 12 Tbs. (1 1/2 sticks) cold unsalted butter, cut into 12 pieces
– Salt and freshly ground white pepper, to taste
– Minced fresh chives for garnish
Directions:
Preheat an oven to 200°F.
Pat the scallops dry with paper towels. Season on both sides with salt and white pepper.
Coat the bottom of a large sauté pan with oil and heat over medium-high heat until the oil shimmers. Working in batches, add the scallops and sear on each side until lightly golden brown, about 1 minute per side. Using a slotted metal spatula, transfer the scallops to a platter and keep warm in the oven.
To make the lemon beurre blanc, in small, heavy nonreactive saucepan over medium-low heat, combine the lemon juice, vermouth and shallot. Bring to a low boil and cook until the liquid is reduced to about 1 tsp. Remove the pan from the heat and, using a whisk, beat in 1 piece of butter, then a second piece. Place the pan over very low heat and whisk in the remaining butter one piece at a time to make an emulsified sauce. Remove from the heat and whisk in salt and white pepper.
Pour the beurre blanc over the scallops and sprinkle generously with chives. Serve immediately. Serves 6.