Fresh fruits
We carefully select fruits and vegetables and only use the best.

Lots of vitamins
Freshly squeezed juices contain vitamins, minerals and antioxidants.

Charge your body
Healthy drinks give you recommended amount of daily fruits and veggies.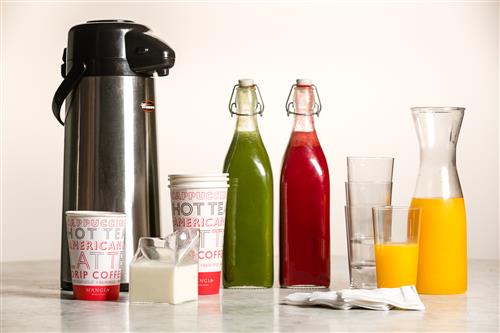 QUICK, DELICIOUS, HEALTHY
The hectic pace of city life is not always conducive to a healthy diet. When you need something quick, it can be tempting to choose a candy bar from the bodega or a hot dog from a street cart—but Mangia has a solution that is quick, delicious, and healthy. At our juice bar, you can choose from a variety of fresh juices and smoothies for an energizing start to your morning or a refreshing midday pick-me-up.
Freshly squeezed juices are packed with nutrients like vitamins, minerals, and powerful antioxidants. Drinking fresh juices can help boost the immune system, remove toxins from the body, and help with digestion. Plus, our juices don't have any of the added sugars, preservatives, or artificial flavors found in processed, store-bought juices.
Various mixes
Our juice bar menu has a variety of fresh fruit and vegetable juices and smoothies. Our vegetable mixes use superfood veggies like tomato, celery, carrots, and beets. Or you can try a fruity classic, like a banana berry smoothie. Some of our most popular pressed juices are the Green Goddess with kale, swiss chard, spinach, celery, apple, lemon, and ginger, or the Skinny Greens with pineapple, mint, kale, spinach, and a hint of jalapeño.
We also serve signature wellness shots, like the Hot Shot with cayenne, turmeric, and orange, or the Detox Shot with lemon, ginger, and cayenne. Or you can try one of our freshly blended smoothies, like the Almond, made with almond milk, banana, almond butter, chocolate, coconut protein powder, agave, and cinnamon, or the Keto Lover with spinach, almond milk, vanilla protein powder, parsley, raspberries, and almond butter. We also like to experiment with trendy superfoods, like the blue spirulina in our Blue Power smoothie, made with banana, blueberry, almond milk, and vanilla protein powder.
If you want something simple, try a raspberry-banana drink, a blueberry-mint mix, or a strawberry-basil smoothie.
These healthy drinks are a great way to get your recommended amount of daily fruits and veggies. Take a break from your hectic schedule and stop by Mangia's juice bar for a quick hit of all natural fresh fruits and vegetables that will give you the boost you need to conquer your day.