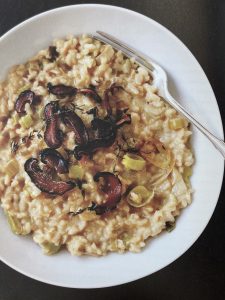 Building a proper pantry is not done without a stash of rice. Some varieties I keep on hand are long-grain aromatic basmati rice, jasmine rice, nutty wild rice, and everyday brown rice. And I always have a box or two of Arborio waiting for the fay when I crave a creamy risotto. There's nothing soothing about the continuous stirring and slow addition of broth while leaning over a hot stove that makes this dish a wintertime favorite for me-it's both warming to make and warming to eat.
1 quart Homemade Chicken Stock or Basic Vegetable Stock
2 tablespoons extra virgin olive oil, plus more for drizzling
2 shallots, finely chopped
1 leek, white and light green parts, tough outer leaves discarded, sliced into 1/4-inch-thick rounds
1 1/4 cups Arborio rice
1/3 cup white wine
2 large handfuls shiitake or wild mushrooms, thinly sliced
2 tablespoons unsalted butter
1/2 cup freshly grated Parmesan cheese
2 tablespoons roughly chopped fresh parsley
Salt and freshly ground black pepper
In a medium saucepan, bring the stock to a simmer and keep it at a low simmer. In a large saucepan, heat the olive oil over medium heat. Add the shallots and leek and cook for 10 to 15 minutes, until the leeks are caramelized. Increase the heat, stir in the rice, then add the wine. Keep stirring until the liquid is absorbed. Pour in a ladle of hot stock and turn the heat down to a simmer. Stir continuously, adding a ladle of stock at a time and allowing each ladleful to be absorbed before adding the next. Continue adding stock until the rice is cooked but still al dente, about 30 minutes. 
Meanwhile, preheat the oven to 400 degrees F. Line a baking sheet with parchment paper. 
Scatter the mushrooms in a single layer on the prepared baking sheet. Drizzle with olive oil and generously season with salt and pepper. Roast until golden and crisp, 15 to 20 minutes, checking every 5 minutes and tossing to avoid burning the edges. Remove from the oven and set aside. 
Take the risotto off the heat and stir in the butter, cheese, and parsley. It should have a creamy consistency; if not add a little more stock. Season with salt and pepper. Divide the risotto among bowls and top each with roasted mushrooms and a drizzle of olive oil.