Vegan Curried Cauliflower Soup can add great flavor and warmth to everyones meal. Vegan Curried Cauliflower is one of MANGIA's innovative soups which doesn't discriminate.
INGREDIENTS
4 Oz. Grape seed oil
1/3 cup diced leeks
1/3 cup diced celery
3/4 cup diced onion
2 tbsp. minced garlic
3 tbsp. minced ginger
2 tbsp. curry powder
1 tbsp. sea salt
3 each diced potato
2 heads rough chopped cauliflower
½ -¾ gallons hot vegetable stock
4 green apples, juiced
sea salt to taste
3 tbsp. olive oil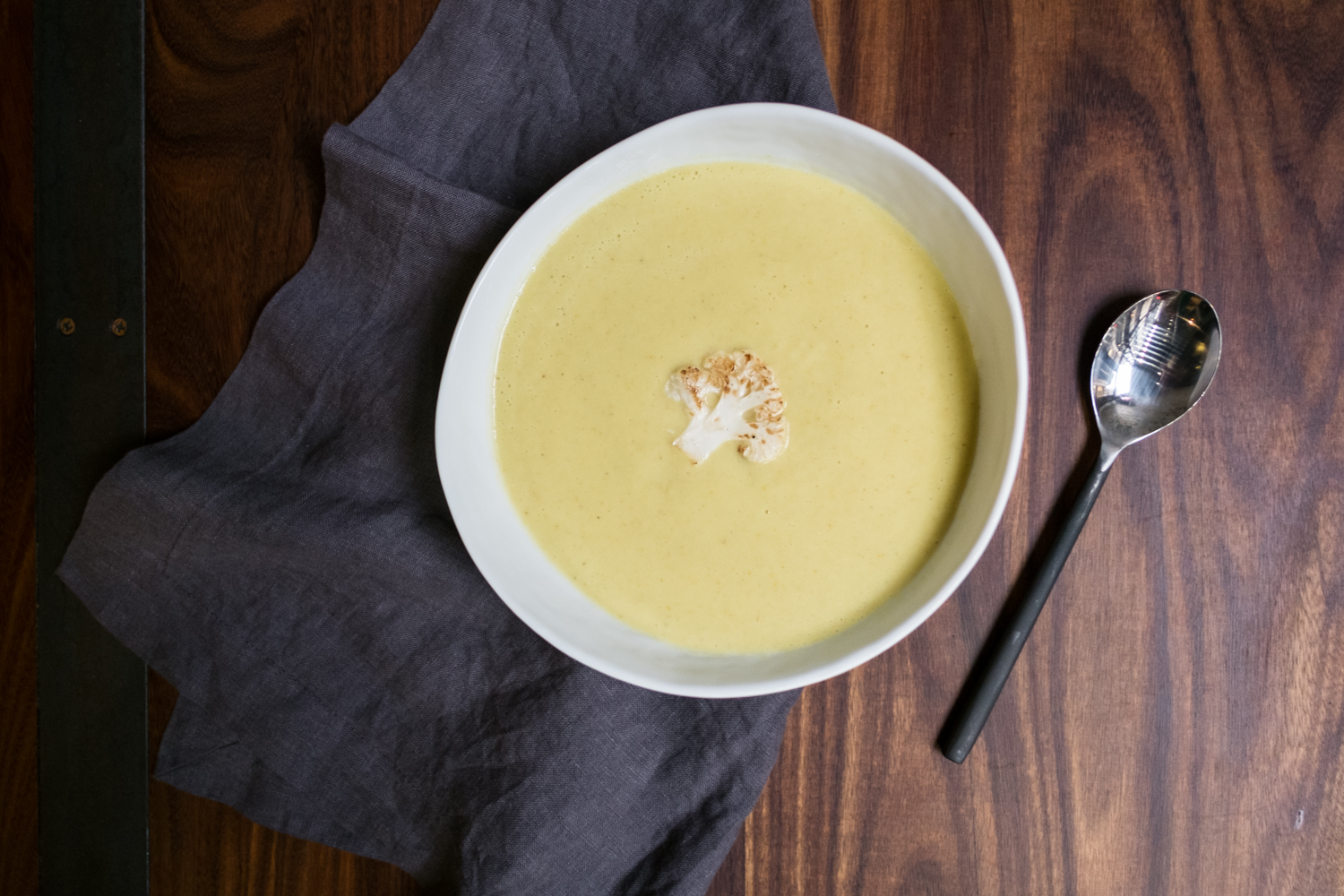 PREPARATION
Heat a heavy bottom soup pot with the grape seed oil over medium heat
Once the oil is been on for 45 seconds add the leeks, celery, onion, garlic, Ginger, curry powder & sea salt (1tbsp.).
Cook the base ingredients for 5 minutes over medium heat. (Do not allow any color, just develop the aroma and allow the vegetables to become translucent.)
Add the potatoes, cauliflower, and cook over medium high heat for 10 minutes; again NO color should be developed. Watch for the vegetables to begin to break down, this is good. If it is a bit dry add a small amount of Vegetable stock to prevent any color or browning of the pot.
Add the hot vegetable stock to the vegetables and bring to a simmer.
Discard any foam or additional oil from the top of the liquid.
Simmer the soup for 20-25 minutes (vegetables should be very soft and broken apart)
Just before the soup is done, add the apple juice and a touch of fresh olive oil to finish
Puree in small batches in a blender until silky smooth
If needed pass the soup through a fine mesh sieve to remove and unblended items.
Check seasoning and enjoy
CHEF TIP
For almost all vegetable puree soups the key for a beautiful outcome is to sweat the vegetables slowly with oil & salt until they breakdown and turn very soft. It is imperative to constantly stir to avoid burning during this step. With this method the soup will cook quicker with better favor and texture. Be careful to not add all the stock at once, because the vegetables are cooked they will require less liquid to finish cooking. I also use a Vita Mix to puree soup. The blender incorporates air and makes the soup very light and delicate.
Follow us on Twitter or Facebook to stay updated with our newest recipes!