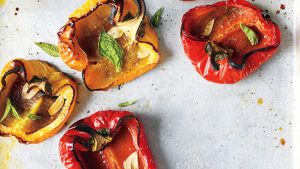 To char whole red bell peppers on the stovetop: Put the pepper directly on the gas burner, in the flame. Keep turning the pepper with tongs until the outside is charred—actually blackened, all over. The flame chars the skin only and does not overcook the flesh. Carefully place the blackened pepper in a brown paper bag or a plastic bag, close it, and let steam until cool enough to handle.
To char bell peppers on the grill: Position the rack as close to the coals as possible and preheat the coals until they are ashy. Place the peppers on the rack and cook them, turning frequently, until blackened. Transfer them to a bag as directed above to steam. 
To skin, seed, and core whole roasted bell peppers: With the dull side of a paring knife, scrape the blackened skin off the flesh of the pepper. (Some of it will remain, and that is good because a few flecks here and there lend flavor.) Halve the pepper and remove the seeds and core. Use as directed. Store in the refrigerator in a covered container for up to 1 week. 
The skin can also be removed with your fingertips under a trickle of cool water. Simply hold the pepper under the tap and pull off the blackened skin with your fingertips. Seed, core, and store as directed above.