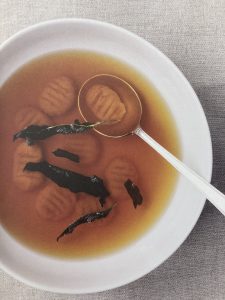 Nothing is as soul-warming as handmade dumplings served in a steaming hot bowl of soup. When the autumn breezes begin to chill, this soup is perfect fare for an early evening dinner on the patio with your favorite quilt around your shoulders and a couple of close friends to warm the air. These tangy orange zest-laced dumplings are tossed in a little browned butter to add a rich nutty note, and they are finished with a scattering of fragrant crisp safe, perfect for including in sny harvest feast.
Canola oil for frying
1 bunch fresh sage
Salt
1 medium sweet potato, peeled and cubed
1 Granny Smith or Golden Delicious apple, peeled, cored, and quartered
1 large egg, beaten
2 teaspoon freshly grated nutmeg
Finely grated zest of 1 orange
1 cup packed grated Parmesan cheese (about 4 ounces)
3/4 cup all-purpose flour, plus more as needed
4 cups Basic Vegetable Stock (page 26) or Homemade Chicken Stock
1 ham hock
Ground white pepper
Wash and dry the sage; pick the leaves off the bunch and set aside. Pour canola oil into a medium saucepan to a depth of 3/4 inch and place over medium0high heat. When the oil begins to shimmer, lower the heat to medium and add the sage leaves, in several batches, and fry for 10 to 15 seconds each, until crisp. Transfer to a paper towel-lined plate, season with salt, and set aside until ready to use.
Place the sweet potato and apple in a large saucepan. Add water to cover and a large pinch of salt, place over high heat, and bring to a boil. Reduce the heat to medium-low and simmer for 15 to 20 minutes, until cooked through. Drain and transfer to a large bowl. Add the egg, brown sugar, 1/4 teaspoon salt, the nutmeg, orange zest, and Parmesan and mash to combine the ingredients well. Gradually add the flour a spoonful at a time, stirring until the batter is stiff. On a floured surface, roll the dough into a 1/4-inch-thick log. Cut the log into 1/2-inch pieces, and with your hands, form the logs into little dumplings. Place the dumplings on a wax paper-covered baking sheet, dust with flour, and set aside.

How to Make Basic Vegetable Stock 1 tablespoon olive oil; 2 onions, quartered; 5 celery stalks, cut into 2-inch pieces; 2 large carrots, peeled and cut into 2-inch pieces; 1 head of garlic, halved; 2 leeks, washed, trimmed, tough outer leaves removed; 3 sprigs flat-leaf parsley; 1 bay leaf; 1 teaspoon whole black peppercorns. HEAT THE OLIVE OIL IN A LARGE STOCKPOT over medium-high heat. Add the vegetables and cook for 5-8 minutes, stirring occasionally, until the vegetables begin to brown. Add the herbs, bay leaf, and peppercorns and cover with 4 quarts of water. Bring to a boil, reduce heat, and simmer, stirring occasionally for 1 hour or until the broth is reduced to about 8 cups. Remove from heat and strain stock through a fine sieve and discard solids. Once cooled, stock can be stored covered in the refrigerator for 4 days or frozen for up to 3 months.