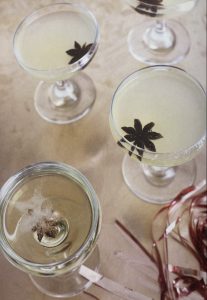 This spiced cocktail is perfect for sipping at a wintertime party. Cinnamon, star anise, and cloves give the pear nectar and aromatic quality, and bubbly prosecco adds festive elegance. For an equally delicious nonalcoholic beverage, replace the bubbly with seltzer. Either version is worthy of toasting with.
1 cup of water
1 cup of sugar
3 cups pear nectar
4-star anise, plus 12 for garnish
4 cloves
2 cinnamon sticks
Two 750-ml bottles of Prosecco, chilled
In a small saucepan, combine the water, sugar, pear nectar, star anise, cloves, and cinnamon sticks. Place over medium heat and bring to a boil, then reduce the heat to low and simmer for 10 minutes, or until the liquid thickens to a syrup. Remove from the heat and steep for 20 minutes for the flavors to infuse. Strain the syrup through a sieve into a jar and discard the spices. Let cool to room temperature, then cover and refrigerate until chilled, about 1 hour. The syrup can be made ahead of time and stored in the refrigerator for up to 1 week. To make the cocktails, fill each glass with 1/4 cup pear syrup, t9op off with Prosecco, and drop in star anise for garnish.