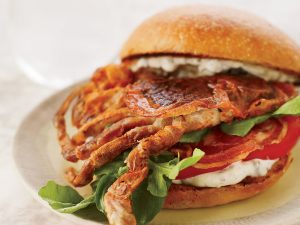 Tradition has it that you should buy soft-shell crab live and dress them right before you cook them. In reality, it is more convenient to have your fishmonger do it for you. If you decide to do it yourself, however, hold each one down firmly with one hand; then with a pair of scissors in the other, cut about half an inch off their "face," where the eyes and the gills are. That is all there is to dressing a crab. Soft-shell crabs lovers, and there are legions of them, anticipate soft-shell crab seasons as a very special time of the year. IF you count yourself among them, plan a gathering of like-minded connoisseurs in spring or early summer; then make a feast of this superb seasonal sandwich. Pile the platter high. Don't even think about trying to make these ahead of time, though. They are "make-and-serve."
Ingredients
6 large soft-shell crabs, dressed
1 cup all-purpose flour
1 teaspoon freshly ground black pepper
1 teaspoon sweet paprika
1 cup corn oil
1 teaspoon minced garlic 
¾ cup mayonnaise
6 brioche buns or 12 slices brioche loaf
12 strips of bacon, cooked until crisp and drained
2 ri[e tomatoes, cored and sliced thin
6 to 8 leaves of Boston lettuce
In a shallow bowl, combine the flour with salt, pepper, and paprika. One by one, dredge the crabs in the seasoned flour and set aside. 

In a large frying pan, heat the corn oil over medium heat until hot. (The oil is hot when a pinch of flour dropped into it sizzles on contact.) Carefully add the crabs, a few at a time, and dry them for about 1 to 2 minutes on each side, until brown. As they are done, transfer them to paper towels to drain.

In a bowl, stir together the garlic and mayonnaise until combined.

When you are ready to assemble sandwiches, cut the brioche buns in half. Spread 6 of the halves with the garlic mayonnaise. Place a whole crab on each one, and top it with tomato slices, 2 strips of bacon, and a leaf or two of lettuce. Cover with the remaining bun half.
Serves 6