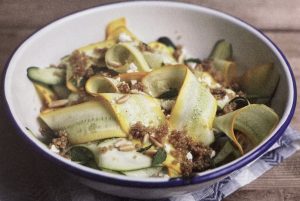 Unlike hardy winter squash is harvested while the exterior is still tender, and can be eaten rind, seeds, and all. The first time I saw the multitude of varieties of these colorful squash, I excitedly bought as many as I could, from bright yellow crookneck squash, I excitedly bought as many as I could, from bright yellow crookneck squash and green zucchini to the petite and nutty pattypan squash. I've found the round-shaped squash are delicious when hollowed out, stuffed, and baked, and the long yellow squash and zucchini made a wonderfully light side dish when shaved raw into ribbons and tossed with dressing.
1/2 cup dry quinoa
Salt
2 tablespoons fresh lemon juice
1 garlic clove, minced
1/4 cup extra virgin olive oil
Freshly ground black pepper
2 tablespoons pine nuts
1 1/2 pounds mixed summer squash
1/4 cup (1 ounce) crumbled feta cheese
1/4 cup roughly chopped fresh mint
Rinse the quinoa thoroughly. Put it in a small saucepan with 1 cup of water and a pinch of salt and bring to a boil over medium-high heat. Cover the pan, turn the heat down to low, and simmer for 15 minutes. Remove from the heat, cover, and let sit for 5 minutes, then fluff with a fork.
Meanwhile, in a small bowl, whisk together the lemon juice, garlic, and olive oil. Season with salt and pepper and set aside. In a small skillet, toast the pine nuts over medium-high heat, shaking the pan requently, for about 2 minutes, until lightly browned. Remove from the heat and set aside. With a vegetable peeler, shave the squash lengthwise into long strips. In a large bowl, toss the shaved squash with the dressing and let stand for a few minutes. Add the puinoa and toss. Finish by scattering the pine nuts, feta cheese, and mint on top.