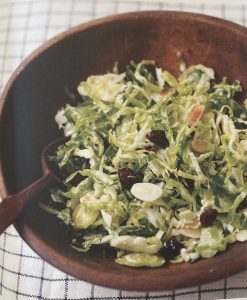 What is it about Brussels sprouts that make them a vegetable that kids (and adults) always complain about eating? For me, it wasn't until a began preparing Brussels sprouts myself-shaving them raw and roasting them-that I came to love them. Now whenever I see these mini cabbages at the market, I grab a couple of stalks to add a healthy helping of greens during the colder season months. The bright flavors used in preparing the Brussels sprouts in this recipe will open up the minds of the cynics: the zing of the orange and the sweetness of the honey in the dressing temper any bitterness, while the cranberries and almonds add textural layers. This salad makes for a fine start to a cozy meal; add a protein for substance and it's fit to serve as a light dinner or lunch.
2 pounds Brussels sprouts
1/4 cup extra virgin olive oil
Finely grated zest and juice of 1 orange
2 tablespoons of honey
1/3 cup red wine vinegar
Salt and fresh ground black pepper
1/4 cup dried cranberries
1/4 cup slivered toasted almonds
Using a mandoline set at 1/8 inch, shave the Brussels sprouts horizontally. Place them in a large bowl.
In a small bowl, whisk together the olive oil, orange zest and juice, honey, and vinegar. Season with salt and pepper. Gently toss the Brussels sprouts with dressing and allow to sit for at least 5 minutes to marinate in the dressing. Mix in the cranberries and toasted almonds and serve.