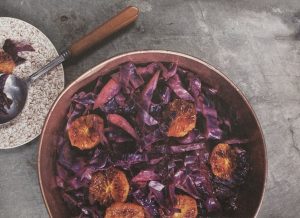 Red cabbage, with its deep purple color. adds a punch of brightness to cold-weather dishes. Great raw or cooked, this leafy biennial is one of the most versatile veggies. It is often used for slaw and it's also wonderful with a little heat involved. In this sauteed red cabbage dish, the vinegar helps the cabbage retain its color and the orange juice gives it zing.
2 tablespoons extra virgin olive oil
1 red onion, thinly sliced
2 garlic cloves, minced
1 head red cabbage, sliced into 1/4 inch ribbons
1/2 cup orange juice
2 tablespoons apple cider vinegar
Salt and freshly ground black pepper
2 small oranges, peeled and pith cutaway
Heat a large skillet over medium heat. Add the olive oil, and when hot, add the onion and garlic and saute until just softened about 5 minutes. Reduce the heat to medium-low, stir in the cabbage, and saute for about 8 minutes, until slightly wilted. Pour in the orange juice and vinegar and toss t coat the cabbage. Reduce the heat to low and simmer for 10 minutes until the cabbage is tender, stirring occasionally and keeping an eye on the pan and adding a bit more juice if it looks dry. Season with salt and pepper. Transfer the cabbage to a serving dish and cover to keep warm until ready to serve.
Cut the oranges horizontally until 1/4-inch-thick round slices, removing any seeds you come across. Heat a large skillet over medium-high heat; add the oranges and cook until they are caramelized, 2 to 3 minutes on both sides. Serve the cabbage with the caramelized oranges scattered over the top.
TO CUT CABBAGE, place it on a cutting board and, using a chef's knife, cut it into quarters down the center through the stem. Carefully cut away the vore and discard it. Place the cabbage flat side down on the board and slice the wedges crosswise to form 1/4-inch ribbons.