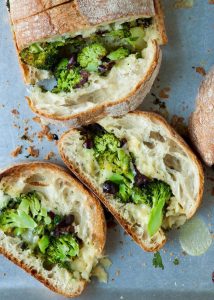 "There are big, bold flavors in this tasty combination. The ingredients here have a natural affinity for one another and come together without a hitch," explains Sasha Muniak, founder of Mangia. Make this easy for yourself by preparing the broccoli rabe to saute in advance. As for the bread, we always recommend toasting it for panini—the reason being that you don't want it to be chewy. If ciabatta is unavailable, simply use a baguette, and toast it well. A note on Pecorino Romano: It can be tricky to slice. For optimum results, have the cheese at room temperature and slice it with a cheese slicer or a sharp knife. Shards taste just as good if you can't get thin even slices. 
Ingredients
3 ciabatta loaves, each about 8 inches long
1 ½ pound broccoli rabe
2 garlic cloves, thinly sliced
3 tablespoons extra-virgin olive oil
3 tablespoons golden raisins
1 teaspoon salt
¼ cup pine nuts (pignoli)
12 thin slices of Pecorino Romano cheese
Preheat the oven to 250 degrees F. 

Cut each ciabatta bread crosswise for a total of 6 halves. Then cut each half horizontally to make 12 pieces. Place the bread on a baking sheet and toast for 5 minutes. 

Wash the broccoli rabe and cut off and discard the thicker stems. On a cutting board, chop the broccoli rabe into 2-inch pieces. 

In a skillet, saute the garlic in the olive oil over medium heat, taking care not to let it brown. Add the broccoli rabe, raisins, and salt. Saute briefly, cover, and reduce the heat at very low; cook for 10 minutes. Uncover and cook until the juices have evaporated. Remove from the heat.

In a small dry skillet, toast the pine nuts over medium heat, stirring constantly, until fragrant. Transfer to a dish. 

Place a slice of Pecorino on each piece of bread to cover it. Pat dry any excess liquid around the broccoli rabe; then stir in the toasted pine nuts. Place a heaping tablespoon of the mixture over the cheese on the panini and serve. 
Serves 6
Prepping in advance: The broccoli rabe saute can be completed through step 4 several hours in advance of serving; hold at room temperature.
The pine nuts can be toasted 1 day in advance. Store in a covered container at room temperature.