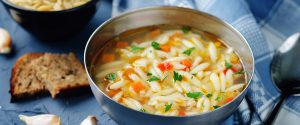 VEGETABLE ORZO SOUP
"You will be raiding your vegetable garden (or the farmstand or produce department) when you make this soup!" jokes Sasha Muniak, founder of Mangia.
And it is the shopping that takes time. The soup itself is a breeze to put together. If you have homemade chicken broth, by all means use it. Otherwise, choose a good-quality canned broth, not too salty, so that the flavor of each of the many vegetables are no longer al dente, either. 
Ingredients
1 cup orzo or pastina
1 medium yellow onion
2 garlic cloves
2 thin medium carrots
2 medium turnips
2 medium zucchini, cut into rounds
1 cup cremini mushrooms
¼ cup extra-virgin olive oil
10 cups chicken broth
1 teaspoon dried thyme
1 teaspoon salt
1 teaspoon freshly grounded pepper
1 cup broccoli florets
1 cup fresh peas
2 large tomatoes, chopped
½ cup chopped flat-leaf parsley
Serve with: Parmigiano croutons
In a medium saucepan, cook orzo in plenty of boiling salted water for about 5 minutes. Drain and reserve. (If you are using pastina, cook it according to the directions on the package.)

Peel, trim, and finely dice the onion. Peel, trim, and thinly slice the garlic. Peel, trim, and dice the carrots into cubes. Peel the turnips, cut into thin slices, and cut the slices in half. Wash,  trim, and slice the zucchini into thin rounds. Wash, trim, and quarter the mushrooms. 

In a large heavy pot, saute the onion in the olive oil over moderate heat, stirring, until translucent. Add the garlic and saute it, taking care that it does not brown. Add the carrots, turnips, zucchini, and mushrooms, and saute for 1 minute. Cover the pan, reduce the heat to low, and sweat the vegetables for 10 minutes.

Add the broth, thyme, salt, and pepper and simmer the soup for 30 minutes. 

Add the broccoli to the soup and cook for 5 minutes. Add the peas and cook for 2 minutes more. Taste and correct the seasonings.

Stir the reserved orzo and bring the soup to a boil. Add the chopped tomatoes and parsley, stir to combine well, and serve immediately.
Serves 6 to 8
Note: The soup is best served on the day it is made.