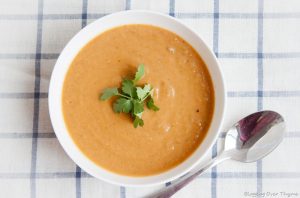 This rich soup is a Mangia classic, a mainstay on our winter menu. "When we take it off in the summer months, customers clamor for its return. We have a number of versions, depending upon the chef at each of our locations," says founder of Mangia, Sasha Muniak. This is the canned tomato version, preferably made with San Marzano tomatoes. If you have roasted eggplant ahead of time, putting this together is a very simple matter. In fact, it can be made almost entirely a day in advance of serving.  
Ingredients
1 yellow onion
2 garlic cloves
1 carrot
1 celery stalk
1 tablespoon extra-virgin olive oil
3 pounds canned Italian plum tomatoes, undrained
1 cup water
1 teaspoon salt
1 teaspoon chopped marjoram
1 teaspoon chopped oregano
1 teaspoon dried thyme
½ teaspoon light brown sugar
6 roasted eggplant slices (see page 195)
6 tablespoons freshly grated Parmigiano-Reggiano cheese
Serve with: Prosciutto, Green Olive Paste, and Arugula on Peasent Bread (page 180) or another panino of choice, as long as it does not have either tomato or eggplant in it. 
Peel, trim, and dice the onion, garlic, and carrot. Thinly slice the celery. 

In a large heavy pot, heat the olive oil over medium hear and saute the onion, carrot, and celery, stirring, for about 5 minutes. Add the garlic and saute it, taking care not to let it brown. Stir the tomato with their juice, water, salt, marjoram, oregano, thyme, and brown sugar. Cook over low heat until the vegetables are soft, about 20 minutes. 

In a food processor, puree the soup in batches. Return the soup to the pot. Reheat and adjust the seasonings to taste. 

Meanwhile, chop the roasted eggplant slices, add to the soup, and cook just until the eggplant slices are heated through. Ladle the soup into bowls and sprinkle a little Parmigiano over each serving. Serve immediately. 
Serves 6
Prepping in advance: The soup can be made 1 day ahead through step 3.
Let cool, cover tightly, and refrigerate. When ready to serve, bring to a gentle boil and proceed with step 4 to finish the soup.