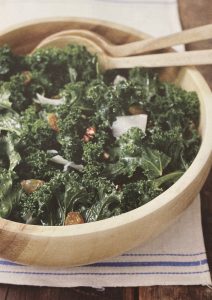 Kale is the king of leafy greens. This powerhouse veggie is packed with vitamins K and C, beta-carotene, and calcium. When kale becomes a farmers market staple particularly when I can find Tuscan kale (also known as dinosaur or lacinato kale) or any type of baby kale. To dress up this salad I've thrown in pecans for their rich, buttery quality, golden raisins for their understated sweetness, and a few Parmesan shavings to round the melange. It's a great salad to serve alongside any meal.
1/3 cup golden raisins
1 bunch baby kale or Tuscan kale, stalks removed and discarded
Finely grated zest and juice of 1 lemon
1 garlic clove, grated
1/2 cup extra virgin olive oil
Salt and freshly ground black pepper
2 tablespoons roughly chopped toasted pecans
Parmesan cheese shavings for topping
In a small bowl, soak the raisins in hot water to cover for 10 minutes to plump them, then drain completely. Meanwhile, slice the kale into 3/4-inch ribbons and place in a  large bowl. In a small bowl, whisk together the lemon,on juice, lemon zest, garlic, and olive oil. Season with salt and pepper.
Scatter the pecans and golden raisins over the kale, add the dressing, and toss. Let sit at room temperature for 15 minutes- this allows the kale leaves to soften and absorb the flavors of the dressing. Top with Parmesan shavings and serve.