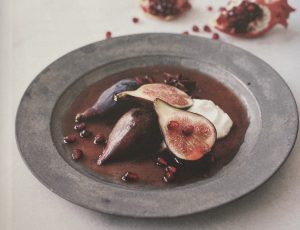 Both figs and pomegranates were some of the earliest fruits recognized and cultivated by humans. In Greek mythology, the ruby-colored seeds of the pomegranate were even used to tempt a goddess. Fig trees were sacred in ancient Cyprus and have long been a symbol of fertility and sweetness. Our dessert is inspired by the rich history and beauty of these fruits.
To poach a fig, all that is needed is a little bit of spice, a splash of liquor, and a touch of something sweet. If you are in a pinch for time, this recipe is dessert in minutes, though its elegance belies it. To achieve the tastiest results, work with figs that are ripe and ready for sliving. Figs have a short season in early summer and a second season that stretches from late summer to fall. Ripe figs should give slightly to pressure but shouldn't be extremely soft or mushy.
1/2 cup creme fraiche
1/4 cup plus 1 tablespoon sugar
2 cups pomegranate juice
2 tablespoons Grand Marnier
1 whole star anise
1 cinnamon stick
Finey grated zest of 1 orange
8 figs, cut in half lengthwise
Pomegranate seeds for garnish
In a small bowl, mix the creme fraiche with 1 tablespoon of the sugar and set aside. In a medium saucepan, whisk together the pomegranate juice, pomegranate molasses, Grand Marnier, and the remaining 1/4 cup sugar. Add the star anise, cinnamon stick, and orange zest, place over medium heat and bring to a simmer. Add the figs, reduce the heat to low, and poach them for 5 minutes, or until just cooked through.
Divide the figs among 4 bowls and finish each dish with a dollop of creme fraiche and a scattering of pomegranate seeds.