Summer is officially here and all we can think about is what our Pastry Chefs are up to baking at Mangia Bakery! We usually love featuring our signature deserts and sharing with you recipes and instructions of how to make them at home. But today, we are excited to share the recipe and instructions of how to make a seasonal favorite: the plum tart. A rustic tart that is so refreshing, naturally sweet and delicious that can be enjoyed with your cup of coffee or as a summer light desert. Give it a try at home by following our recipe below or order online for delivery from our weekly special menu!
Ingredients:
Parchment paper
Vegetable cooking spray
1 ½ pounds plums, sliced
½ cup sugar
⅓ cup plum preserves
1 teaspoon vanilla extract
¼ teaspoon ground allspice
½ (15-oz.) package refrigerated piecrusts
1 tablespoon all-purpose flour
1 large egg
1 tablespoon sugar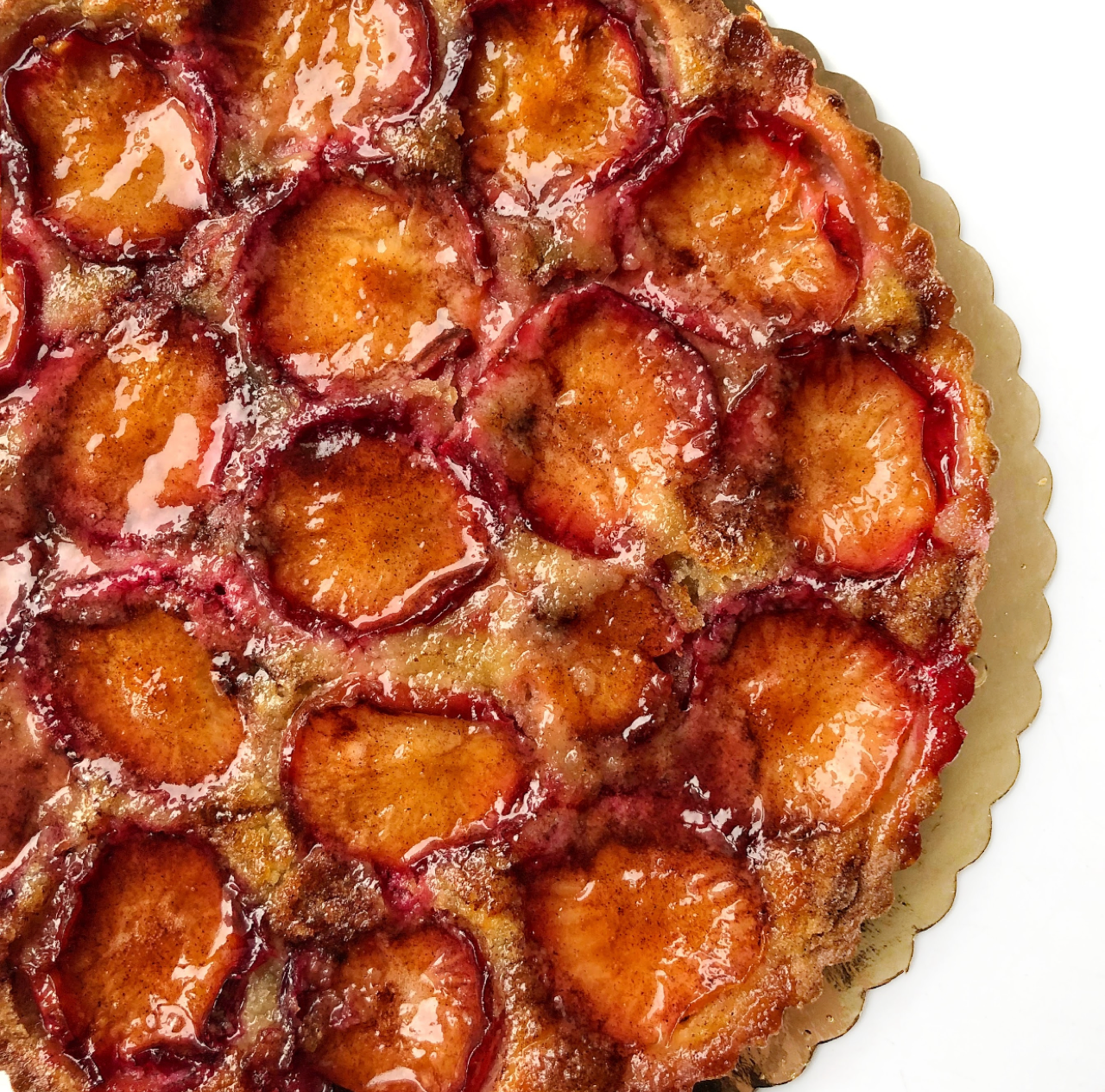 Directions
Step 1
Line baking sheet with parchment paper; coat parchment paper with
cooking spray.
Step 2
Preheat oven to 350°. Stir together plums and next 4 ingredients in a large
bowl. Let stand 30 minutes, stirring occasionally.
Step 3
Unroll piecrust on prepared baking sheet. Roll into a 12-inch circle.
Step 4
Drain plum mixture, reserving liquid. Toss plums in flour.
Step 5
Mound plums in center of piecrust, leaving a 3-inch border. Fold piecrust border up and over plums, pleating as you go, leaving an opening about 5 inches wide in center.
Step 6
Stir together egg and 1 Tbsp. water. Brush piecrust with egg mixture, and sprinkle with 1 Tbsp. sugar.
Step 7
Bake at 350° for 45 minutes or until filling is bubbly and crust is golden.
Carefully transfer tart on parchment paper to a wire rack; cool 20 minutes.
Step 8
Meanwhile, bring reserved plum liquid to a boil in a small saucepan over medium heat. Boil 1 to 2 minutes or until slightly thickened. Let cool slightly. Brush or drizzle 1 to 2 Tbsp. hot plum liquid over exposed fruit in center of tart. Serve immediately with remaining plum syrup, and, if desired, Sweet Cream Topping.
Step 9
Sweet Cream Topping: Stir together 1/2 cup sour cream and 2 tsp. brown sugar. Cover and chill 2 hours before serving. Stir just before serving.
Step 10
Peach-Nectarine Tart: White peaches won't work as well in this tart because of their delicate texture. Prepare recipe as directed, substituting 3/4 lb. peeled nectarines and 3/4 lb. peeled peaches for plums and peach preserves for plum preserves.
Step 11
Apricot-Almond Tart: Prepare recipe as directed, substituting fresh apricots for plums and apricot preserves for plum preserves. Omit allspice.
Step 12
Fresh Cherry Tart: Prepare recipe as directed, substituting 1 1/2 lb. fresh cherries, pitted, for plums and cherry preserves for plum preserves.