If you're not a pizza lover,  don't even bother to continue reading.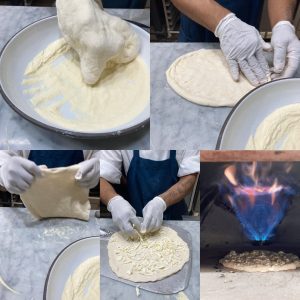 Wait; Let me rephrase… if you're not a pizza lover, come to Mangia and you will be. You will fall utterly in love with cheesy bread and constantly dream about the different ingredients to put on top of your newly found lover. After all, all you need is love and pizza. At Mangia, pizza is our superpower. The preparation, the ingredients, the process, some would call it an art, or love at first bite. Although revealing the recipe would be a crime, let me just tell you generations down the line, la nona de la tua nona kept these secrets for la pizza perfecta.
The key to a good pizza is the dough. We use an organic sourdough to make a thin crust of deliciousness.To get the dough to its ideal state, we feed the dough with a starter for 8 days. Once the dough is well-fed, we begin the prep process for the oven.
Massaging the dough with love is very important. For extreme flavor, we like to sing while we cook… and dance the tarantella. Once the dough is flattened and prepared to a flat, circular shape, we top it with fresh mozzarella cheese and then boom into the oven
The pizza will bask in the flames for 2-3 minutes until the crusts are crispy and golden. Then, we decorate. Prosciutto, pepperoncini, arugula, pepperoni, fresh tomato, and everything else your heart desires.
There you have it, the perfect pizza