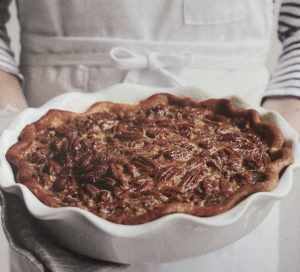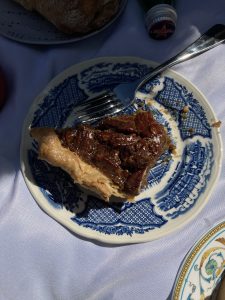 Pecan pie, a southern standby, holds a special place in my heart. My college roommate relied on baking these pies for professors to account for any lateness on school assignments. Presented along with her charming southern drawl, I'm convinced that they boosted her standing by an entire letter grade. All of the day's worries would melt away after taking a bite of her dense nutty pie set in its brown sugar filling, the flavors filling me with visions of her grandma's old fashioned home cooking and pies cooling on racks in a country kitchen. This pie, inspired by that roommate's, is unapologetically rich-it uses three different kinds of sugar, almost two sticks of butter, and a load of pecans. My favorite way to serve any warm pie is a la mode, with a generous scoop of ice cream on top. Here I made a batch of ice cream from the maple syrup I brought back from my farm visit; this, plus the addition of a bit of salt to the mix, creates a flavor reminiscent of salted caramel. The result is well worth the indulgence. Just try to stop yourself from eating the whole pie in one sitting.
Special Equipment: Ceramic pie weights or dried beans for prebaking
FOR THE DOUGH
1 cup all-purpose flour, plus more for dusting
Pinch of salt
2 tablespoons sugar
1/2 cup cold unsalted butter, cut into small chunks
1/4 cup cold water
FOR THE FILLING
3 large eggs
1/2 cup light corn syrup
1/2 cup packed light brown sugar
1/2 cup granulated sugar
6 tablespoons unsalted butter, melted
1 teaspoon vanilla extract
1/2 teaspoon salt
2 cups pecan halves
1 teaspoon water
To make the dough: Combine the flour, salt, sugar, and butter in a food processor. Pulse for about 10 seconds, until you have pea-size pieces. Add the cold water and pulse for 2 seconds, just enough to incorporate the water into the flour. Alternatively, combine the ingredients in a bowl and mix with a pastry blender until just combined. Transfer the dough to a work surface lightly dusted with flour and knead the dough just enough for it to come together. Form the dough into a disk, wrap with plastic and refrigerate for at least 1 hour or up to 2 days. On the lightly floured work surface, roll the dough into a 12-inc round. Transfer the dough into a pie pan, trimming to a 1-inch overhang. Fold the extra dough over to form a rim and crimp the rim with your fingers or the underside of a fork. Prick the dough a few times with a fork. Cover with plastic wrap and freeze for 30 minutes. Preheat the oven to 400 degrees F.
Remove the pie pan from the freezer. Line the dough with parchment paper and fill with ceramic pie weights or dried beans. Prebake for 10 to 15 minutes, until the edges begin to turn golden. Take the piecrust out of the oven and remove parchment paper and weights; lower the oven temperature to 350 degrees F.
Meanwhile, in a large bowl, combine 2 of the eggs, the corn syrup, sugars, butter, vanilla, and salt and whisk until smooth. Gently mix in the pecans. Pour the pecan filling into the piecrust. In a small bowl. beat the remaining egg with the water to create an egg wash and brush the edges of the pie with the egg wash. Bake the pie until the center feels set but is still soft and the pecans are deep brown in color, 40 to 50 minutes. Place the pie on a wire rack to cool. Serve slightly warm, with each slice topped with a scoop of Salted Maple Ice Cream.
SALTED MAPLE ICE CREAM
3 cups heavy cream
1/4 cup sugar
1/2 cup maple syrup
1 teaspoon salt
1 teaspoon vanilla extract
4 large egg yolks
In a medium saucepan, combine the heavy cream, sugar, maple syrup, and salt. Bring to a simmer over medium heat. Meanwhile, in a medium heatproof bowl, whisk the egg yolks and vanilla. In a slow stream, gradually add the hot cream mixture to the eggs, whisking constantly to thicken the mixture without clumping. Once well combined, transfer the custard back to the saucepan and, still whisking constantly, cook over medium-low heat until the mixture is thick enough to coat the back of a spoon.
Strain the custard through a sieve into a heatproof container and let it cool, then cover and refrigerate until cold, at least 4 hours or overnight. Pour into an ice cream maker and churn according to the manufacturer's instructions. Transfer the ice cream to an airtight container and freeze until firm, 3 to 4 hours.