Open-faced tarts have a lovely rustic appearance and are utterly delicious without being fussy, and this freeform tart, which requires little effort to make, allows the fruit flavors shine. The homemade crust is flaky and buttery and ready to be layered with your favorite fruit, like pears and apples in the fall and winter, strawberry and rhubarb in the spring, and stone fruits in the summer. The fruits will caramelize with the sugar as they bake.
1 1/4 cups all-purpose flour, plus more for dusting
1/4 teaspoon salt\
1/2 cup sugar, plus 2 tablespoons for dusting
10 tablespoons (1 1/4 sticks) cold unsalted butter, cut into chunks, plus 1 tablespoon sliced
1/4 cup cold water
3 large Anjou pears, cored and cut lengthwise into 1/4 inch thick slices
1 tablespoon grated fresh ginger
1 large egg, lightly beaten
1/4 cup strained apricot jam, warmed
Combine the flour, salt, 1/2 cup of the sugar, and the butter chunks in a food processor. Pulse for about 10 seconds, until the butter is broken into pea-size pieces. Sprinkle with the cold water and pulse for another 5 seconds, just enough to combine the water with the flour mixture. On a lightly floured work surface, knead the dough just enough to bind the ingredients; avoid overworking, as it will result in a tough crust. Form the dough into a disk, cover with plastic wrap, and refrigerate for at least 1 hour. The dough can be made up to 2 days in advance.
Preheat the oven to 400 degrees. Line a baking sheet with parchment paper.
On a lightly floured work surface, roll the dough into a 14-inch round. Gently transfer the dough onto the prepared baking sheet. Arrange the pear slices, slightly overlapping, in a spiral starting from the center of the dough to within 2 inches of the edge. Fold the overhanging dough over the fruit. Sprinkle the grated ginger and the remaining 2 tablespoons sugar over the exposed pears, then top with remaining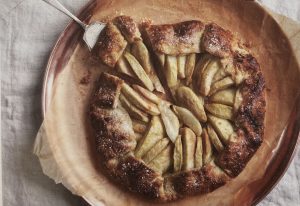 butter slices. Brush the edges of dough with the beaten egg.
Bake the tart until the pears are caramelized and the crust is golden brown and flaky, 40 to 50 minutes. Transfer the tart to a wire rack and brush the pears with the apricot jam. Let cool before serving.