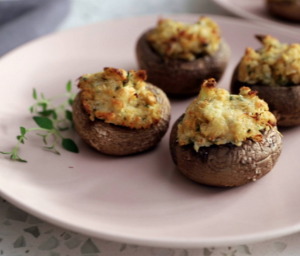 Parmigiano-Baked Portobello Mushrooms with Oregano Crust
These are good right out of the oven or make them several hours ahead for serving at a buffet. They also make a great sandwich filling. 
2 garlic cloves
½ cup extra-virgin olive oil
¼ cup finely chopped oregano
Salt
Freshly ground black pepper
6 large portobello mushroom caps, 4 inches in diameter
1 cup coarsely grated Parmigiano-Reggiano cheese (grated on the larger holes of a box grater)
Preheat the oven to 400 degrees F.

Peel, trim and mince the garlic.

In a bowl, combine the olive oil, garlic, oregano, and salt and pepper to taste. Lay the mushroom caps stem side up, on a baking sheet, and brush with the oregano oil. Bake for approximately 15 minutes.

Sprinkle the caps with the grated Parmigiano and bake for 5 minutes, until the cheese is melted and golden. 
Serves 6