Mangia presents to you a variety of juices. In particular, we have come up with some special new recipes for juices and smoothies that taste amazing and have great health benefits… These are the top 4 new favorites:
Keto Bomb is a great smoothie full of protein. It contains spinach, almond milk, vanilla protein powder, parsley, raspberries, and almond butter. This deliciously sweet smoothie is a great post-workout, as a meal replacement, or source for protein.
We love a good spinach smoothie.
Why is spinach so good for you? 
Iron plays a central role in the function of red blood cells which help in transporting oxygen around the body, in energy production, and DNA synthesis. Spinach is also an excellent source of vitamin K, vitamin A, vitamin C, and folate as well as being a good source of manganese, magnesium, iron, and vitamin B2.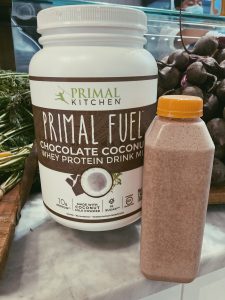 Choco Magic is a frappuccino-like creation. It is super light compared to what you may think of as a frappuccino. Choco Magic, of course, contains chocolate… but not the fattening kind! This smoothie contains chocolate protein powder, coffee, banana, and almond milk. This is a hit if you love chocolate and want to feel like you're splurging on a delicious chocolate milkshake, but really still keeping a healthy diet. Also, full of protein and a caffeine kick; a perfect day starter.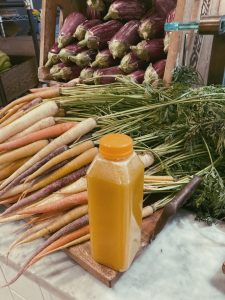 Now for a pressed juice! Citrus Detox is a detox juice, made with lemon, turmeric, orange, green apple, and pineapple. Turmeric is a natural anti-inflammatory.  Clinical trials have found it to be more effective than a placebo for relieving pain and swelling in people with arthritis. Turmeric has a bit of a kick of spice, so combined with orange, green apple, and pineapple, Citrus Detox is the perfect mix of sweetness, spice, and bitterness. A personal favorite of mine!
Blue Power comes out a bright blue color due to the blue spirulina in the blend, along with banana, vanilla protein powder, blueberries, and almond milk. The photo on the left shows the Blue Power juice alongside Mangia's Blue Spirulina Yogurt and granola. Blue spirulina is a blue-green algae that grows in ponds, lakes, and alkaline waterways. Phycocyanin is a blue pigment derived from spirulina which gives the algae its dark blue pigment when it has been extracted. The great news about Blue Spirulina is that it does not have a fishy taste, unlike green spirulina. It is rich in protein, vitamins, minerals, carotenoids, and antioxidants.
Spirulina has been widely recognized for its superior health benefits including:

Removing heavy metals and toxins – Spirulina can bind with heavy metals in the body and help remove them.

Source of Protein – As many people nowadays are choosing a vegan or vegetarian diet, this algae can be a great addition to your daily diet routine to boost protein intake.

May Aid in Weight Loss – Spirulina contains about 50-70% protein. When taken 30 minutes prior to a meal it can help you feel significantly less hungry therefore, you will feel fuller for longer and less likely to overindulge. Protein is highly soluble in water which means that it can be highly absorbed by your body unlike other protein-rich food sources such as meat.

Boosts Energy and Performance – Spirulina is known for its abundance of b vitamins which can boost energy levels. This allows you to improve training and workout results which will enable you to burn more fat. Spirulina's antioxidant content makes it beneficial in decreasing exercise-induced oxidation which leads to muscle fatigue and inability to gain muscle.

Can help improve digestion and bowel health – As spirulina contains chlorophyll, this helps to regularise the digestive system and promote healthy bacteria in the gut.