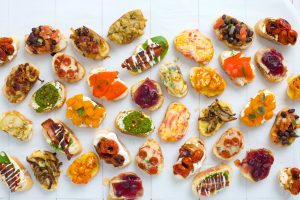 With a variety of toppings that combine savory and sweet flavors, these toasty slices of bread make the perfect finger food, and preparing several types of crostini ahead of time ensures your guests will have plenty to snack on. Feel free to experiment with any jams or other toppings you have in the fridge. The components are easy to prep ahead of time, and crostini taste best when assembled right before serving.
CROSTINI
3 baguettes, cut diagonally into 1/2-inch slices
Extra virgin olive oil for brushing
Salt and freshly ground black pepper
Preheat the oven to 400 degrees F. Line a baking sheet with parchment paper. Lightly brush one side of each bread slice with olive oil and sprinkle with salt and pepper. Place on the prepared baking sheet and toast in the oven until golden, about 5 minutes. Remove from the oven, set aside, and allow to cool on the baking sheet. Repeat in batches with the remaining bread slice.
PROSCIUTTO, PEAR, BLUE CHEESE, AND HONEY CROSTINI
8 ounces prosciutto, thinly sliced
30 slices Crostini (from 1 baguette; see instructions above)
1/2 pear, cored and thinly sliced
8 ounces blue cheese, preferably Saint Agur, thinly sliced
Honey for drizzling
Freshly ground black pepper
Fold the prosciutto slices and place them on top of the prepared crostini. Follow with the pear slices and blue cheese and finish with a drizzle of honey. Season with pepper.
SMOKED SABLE, WHITE BEAN HUMMUS, AND FRIED CAPER CROSTINI
15 ounces (1 1/2 cups) cooked (or one 15-ounce can) white beans, such as cannellini, drained, liquid reserved
Juice of 2 lemons
1/4 cup plus 2 tablespoons extra virgin olive oil
2 garlic cloves, chopped
Salt and freshly ground black pepper
1/4 cup small capers, drained and patted dry
30 slices Crostini (from 1 baguette; see instructions on page 122)
8 ounces smoked sable
To make the hummus; Combine the beans, tahini, lemon juice, 1/4 cup of the olive oil, and the garlic in a food processor and process until smooth, adding some reserved bean liquid as needed to thin the hummus if needed. Season with salt and pepper. The hummus can be made a day in advance and kept covered in the refrigerator.
Heat the remaining 2 tablespoons olive oil in a small skillet over medium-high heat. Add the capers and cook until crisp, about 1 minute. Remove from the pan to a paper towel-lined plate. To assemble the crostini: smear each one with white bean hummus, followed by some smoked sable and fried capers. Use any leftover hummus  as a dip for veggies-carrots, radishes, celery, and cucumber make great crudites.
SPICE-RUBBED STEAK AND MANGO CHUTNEY CROSTINI
1 tablespoon brown sugar
1/2 tablespoon ground cumin
1/2 teaspoon salt
1/2 garlic powder
2 tablespoons extra virgin olive oil
8 ounces flank steak, trimmed of excess fat
30 slices Crostini (from 1 baguette)
1/2 cup prepared mango chutney
Freshly ground black pepper
In a small bowl, mix together the brown sugar, cumin, salt, garlic powder, and olive oil. Rub the mixture all over the steak and let marinate for at least 15 minutes or overnight in the refrigerator if you're prepping it in advance.
Heat a grill pan over high heat. Place the steak onto the hot grill and cook for 5 minutes on each side. Set aside and let rest for 10 minutes, then cut into thin slices. Spread the crostini with the mango chutney and top with the sliced steak. Finish with a sprinkling of pepper.