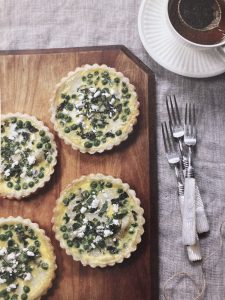 These individual mini quiches are a little bit of breakfast, and a little bit of lunch. The creaminess of the eggs are accented by sweet peas and finished with the bright flavors of fresh mint. Feel free to make this as one large quiche if you don't have small pans on hand.
SPECIAL EQUIPMENT: Twelve 4-inch tart pans with removable bottoms; ceramic pie weights or dried beans for prebaking
FOR THE DOUGH
2 1/2 cups all-purpose flour, plus more for dusting
1 teaspoon salt
1 cup (2 sticks) cold unsalted butter, cut into small chunks
1/2 cup cold water
FOR THE FILLING
6 large eggs
1/2 cup heavy cream
1/2 teaspoon salt
4 small unpeeled potatoes, boiled and cut into 1/2-inch rounds
1/2 cup peas
1/4 cup roughly chopped fresh mint, plus more for finishing
1/4 cup crumbled feta cheese
To make the dough: Place the flour, salt, and butter in a food processor. Pulse for about 10 seconds, until you have pea-sized butter pieces. Sprinkle in the cold water and pulse for about 2 seconds, just enough to incorporate the water into the flour. Transfer the dough to a lightly floured work surface and knead until it just comes together. Roll the dough into a 2-inch diameter log, wrap with plastic, and refrigerate for at least 1 hour or up to 6 hours. Divide the dough into 12 portions. On a lightly floured surface, roll each portion into a 6-inch round. Transfer the rounds into tart pans, trim the edges with a sharp knife, and prick the dough a few times with a fork. Cover with plastic wrap and freeze for 30 minutes. (If I have room in my freezer I like to place the tart pans on baking sheets-this makes covering and moving them easier.)
Preheat the oven to 400 degrees F.
Remove the tart pans from the freezer. Line each with parchment paper and fill them with ceramic pie weights or dried beans. Prebake for 10 minutes. TO make the filling: In a large bowl, whisk the effs with the heavy cream and salt until smooth. Gently mix in the potato rounds, peas, and mint. Remove the tart shells from the oven and remove the weights and parchment. Set aside to cool. Lower the oven temperature to 350 degrees F. Divide the egg filling among the tart shells and scatter the feta on top. Bake the quiches to wire racks and let cool to room temperature before removing them from the tart pans. Serve garnished with mint.