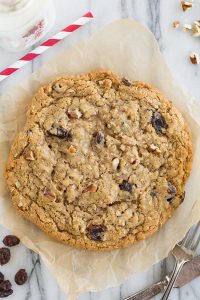 These were on our menu when we opened in February 1982, and are still a great favorite. Lots of butter, sugar, currants and granola, in addition to rolled oats, make these rich and satisfying. They look fabulous in a glass cookie jar if you can keep them around long enough to store them. Fortunately, they are drop cookies and therefore easy to make.
Ingredients:
1 ½ cups plus 2 tablespoons all-purpose flour
¾ teaspoon baking soda
2 teaspoons ground cinnamon
¾ teaspoon grated nutmeg
¼ teaspoon salt
½ pound (2 sticks) unsalted butter, at room temperature
1 cup firmly packed dark brown sugar
½ cup granulated sugar
2 large eggs
1 teaspoon vanilla extract
1 ½ cups old-fashioned rolled oats
1 cup granola
¾ cup dried currants
Position the racks in the middle and lower third of the oven.
Preheat the oven to 350 degrees F. Line 3 large cookie sheets with parchment paper.
Into a bowl, sift together the flour, baking soda, cinnamon nutmeg, and salt.
In the bowl of a standing electric mixer, cream the butter with both sugars on medium speed until light and fluffy. Add the eggs, one at a time, beating well after each addition. Beat in the vanilla. Gradually add the dry ingredients, oatmeal, and granola, ½ cup at a time, blending until just incorporated. Stir in the currants.
Using a medium cookie scoop or a soup spoon, drop the dough onto the lined cookie sheets, leaving about 1 ½ inch between the mounds. With your fingers, flatten each cookie ½ inch thick.
Bake the cookies for about 16 minutes, or until the edges are golden, rotating the sheets halfway through the baking and turning them front to back, as well. Cool the cookies on the sheets, set on racks. Store in an airtight container.
Makes about 2 ½ dozen cookies