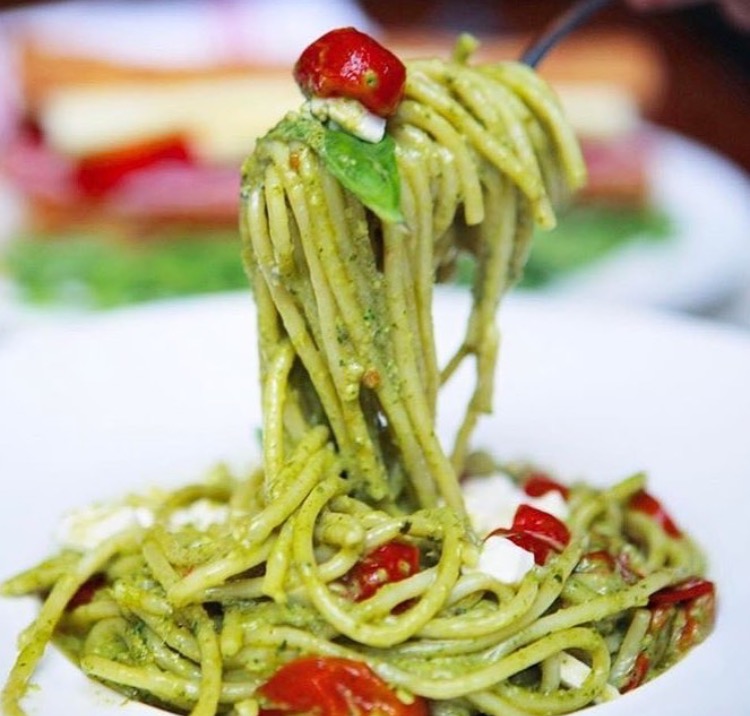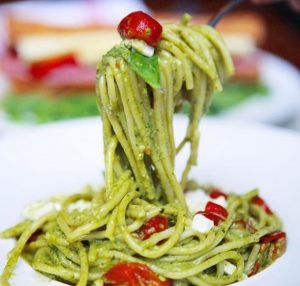 GLUTEN-FREE DISHES:
1: Spaghetti Chittara with gluten-free pasta
Our favorite pasta dish with shrimp, zucchini, cherry tomatoes and baby arugula.
2: Tuna Nicoise Salad
This appetizing salad contains fresh farmers' market mesclun, grape tomatoes, haricot verts, potatoes, a hard-boiled egg, black olives, seared tuna and balsamic vinaigrette on the side.
3: Granola
Enjoy Mangia's gluten-free granola with Greek yogurt and wild berries. Perfection option for breakfast or an afternoon snack to keep you going.
4: Chia Seed Parfait
With almond milk, gluten-free granola and bananas, this parfait is perfect for your summer breakfasts.
5: Salmon with a side of mashed potatoes
Did you know that potatoes are about as gluten-free as it gets? Enjoy a fresh, healthy gluten-free hotline lunch from any of Mangia's 3 locations, including a choice of a hot or cold side dish.
6: Margherita pizza
Another simple yet mouthwatering Italian option. Made with tomato sauce, mozzarella, basil and shaved Parmigiano this gluten-free pizza with meet all your  needs. Baken in brick ovens in our premises and made-to-order!
VEGETARIAN DISHES:
1: Fresh Mozzarella Sandwich
With tomato, basil, black pepper and olive oil, this simple yet delicious sandwich will satisfy any vegetarian's lunch cravings.
2: Roasted Vegetables Sandwich
What more could a vegetarian want? This sandwich showcases fresh peppers, eggplant, zucchini, tomato, artichoke hearts and black olive tapenade on our homemade Tuscan flat bread.
3: Contadino Panini
This Panini with fresh mozzarella, sautéed rapine, roasted eggplant, shiitake mushrooms and black olive tapenade is served on whole-wheat pizza Bianca bread.
4: Branzino withsautéed broccoli (pescetarian)
One of the most flavorful and delicate tasting fishes our Executive chef can get his hands on. Light in texture, rich in flavor and grilled to perfection. We recommend it served with sautéed broccoli and lemon wedges.
5: Vegetariana pizza
Zucchini, eggplant, cherry tomatoes and mushrooms are the toppings of choice for this thin crust and crispy pizza that will make you not want to share any slices with others!
6. Pasta with pesto
Our famous Italian spaghetti as pictured here, with home-made pesto sauce, cherry tomatoes and feta cheese. Buon appetito!
Love. Always. Mangia.
pic credit: IG @the.delicious.life