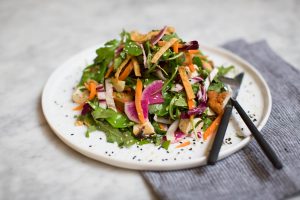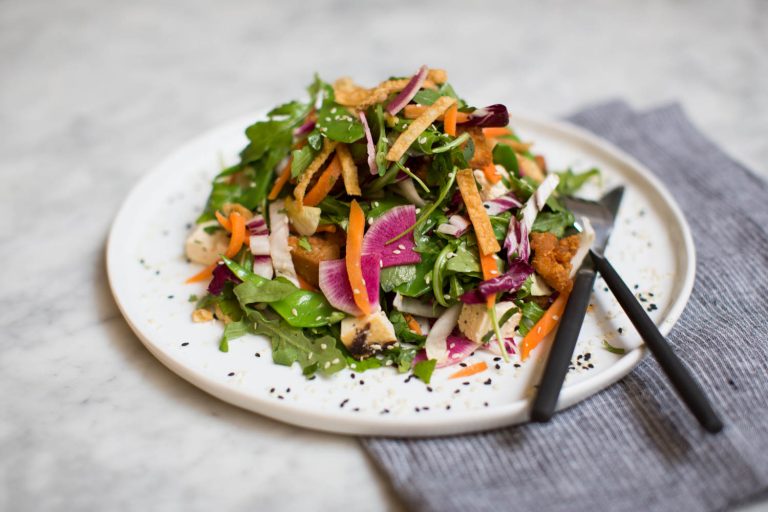 With the bounty of gorgeous summer vegetables hand picked from farmers' market, now is the time to have MANGIA salads — every day! Fresh, easy, light, delicious and pretty enough for your next get-together, these colorful salad ideas top our list of the go-to recipes this summer!
1.Crispy Chicken Salad
Arugula, fresh rainbow reddish,  crunchy crisps, carrots,  poppy seeds are all invited to the party; and with some tender chunks of crispy-coated and savory chicken, it's an amazingly delicious, healthy, and seasonal way to get your salad fix on.
2. Shrimp & Nectarine Salad
For a cool salad on a hot summer day, we combine shrimp, corn, tomatoes and nectarines with a drizzle of tarragon dressing. We love it chilled, but it's great warm, too.
3. Kale Caesar Salad
Baby kale, shaved parmigiano, sliced almonds, homemade caesar dressing, grilled chicken or shrimp. This is the most popular Mangia signature salad that will keep you going for hours!
4. Chicken Cobb
We love the Mangia chicken cobb salad as it has so much glorious goodness going on: mixed kale blend, grilled chicken, crisp bacon, hard boiled egg, grape tomatoes, corn, red onion, blue cheese, avocado, fresh herbs, balsamic vinaigrette.
5. Grain Bowl
Red quinoa, wild rice, sweet potato, corn, asparagus, brussels sprouts, fresh herbs, carrot and ginger dressing for a protein-rich option with twice as much fiber as other grains!
6. Beet Salad
A delicious salad with earthy and roasted beets, arugula, red quinoa, roasted pecans, goat cheese, dijon mustard vinaigrette – yum!
7. Tuna Nicoise
Mesclun, grape tomatoes, haricots verts, red skin potato, hard boiled egg, black olives, seared tuna and balsamic vinaigrette. The well-known Nicoise Salad, or Salade Nicoise in French; is a delicious, refreshing and traditional salad from France in which fresh produce of the market are complemented with typical Provencal seasonings. Originating from Nice in the Provence-Alpes-Côte d'Azur region, this mixed salad has definitely made the Mediterranean traditional gastronomy transcend borders!
8. Summertime Slaw
As a change from mayonnaise-laden slaw, we created this refreshing alternative. It uses many of the framers' market findings, so it's also economical. I serve it at our family reunion each Fourth of July, and it's always a big hit at church socials.
9. Orzo Vegetable Salad
Heading to a potluck and need something to share? Tangy lemon dressing over cool orzo and vegetables is everything you want in a light side dish.
10. Greek Three Bean Salad
Green, kidney and wax beans combine for a summer classic with a tasty twist. Thanks to some bold Mediterranean flavors, it's not hard to close your eyes and imagine yourself on a Greek island.
Love. Always. Mangia.