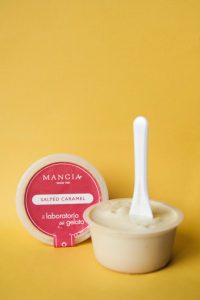 Mangia NYC & Il Laboratorio del gelato – the best-selling gelato brand made in New York City – have announced their ice cream collaboration with the introduction to the market of four flavors: chocolate, vanilla, salted caramel and campari grapefruit sorbet; all created with the same signature craftsmanship and unique flavor the gelato brand is known for.
Jon Snyder, the owner and founder of Il Laboratorio del gelato, had one lifelong passion: ice cream. From the age of 9, he spent every summer working at his grandparents Ice Cream Shop in Cortlandt Manor, NY. At 18, Jon discovered gelato during a first trip to Italy and that was it! Obsessed with bringing the unique Italian method to a 1984 Manhattan, he postponed college to start his own business: the Ciao Bella Gelato Company.
In August of 2002, after selling his first company, Jon opened Il Laboratorio del Gelato on Manhattan's historic Lower East Side, a custom lab for New Yorkers to explore unique flavors, and where NYC area chefs could source frozen desserts for their menus. Nearly 20 years after founding Ciao Bella, Jon recognized the scarcity of quality ice cream in NYC – and was also confident that those years had provided him a more matured and sophisticated palate from which to create whole new recipes. The mission was simple yet deliberate: bring to the world's greatest city the world's finest ice cream.
Mangia is proud to be working with il Laboratoria del gelato on this new venture and offer its customers gelato and sorbet during the summer of 2021.
'It is the first time in our 40 years of business that we decided to offer ice cream during our lunch service and we are very proud to be working with the best brand in the City. We wanted to offer to Midtown New Yorkers the best gelato in a small serving 4oz individual cup, a refershing added item to of premium quality, which is also locally produced and which would compliment our summer grab & go menu', said Sasha Muniak, founder of Mangia NYC.
The Mangia x Il laboratorio del gelato can be found in all 3 Mangia retail locations in Manhattan, on 50W 57th, 422 Madison avenue and 22west 23rd street from the end of June until the beginning of September.
Hurry up to try it out and taste the authenticity of the Italian gelato in the heart of Manhattan!