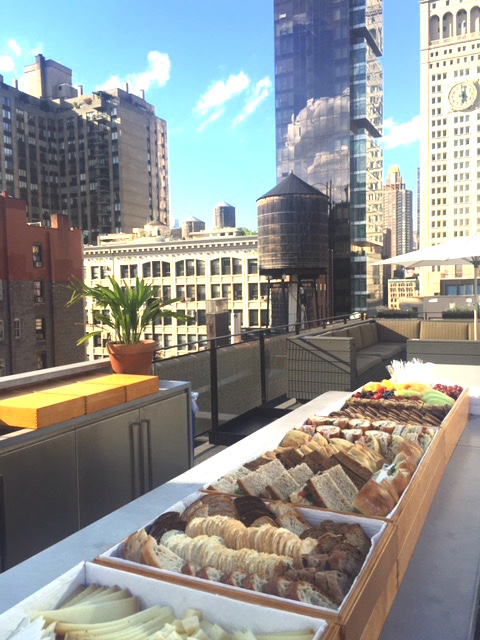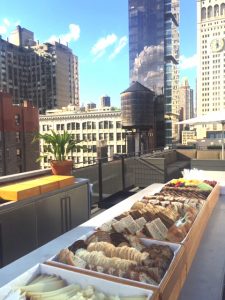 Welcome to MANGIA EVENTS!
For the last 35 years, we are proud to be offering to New Yorkers our fresh and delicious corporate catering options, producing and executing up to 1,000 events on a daily basis! To compliment our catering menu, our dedicated events team is offering the following additional services:
Full Bar
Wine & Beer Bar
Wait Staff & Bartenders
China, silverware, glassware, linens and equipment rentals
Private Parties & Private Dining at our three restaurants in Manhattan
Event Design from A to Z (flowers, preferred set up, music, projectors, microphones etc.)
Our Full Bar Services cost $50 per person for the first two hours and $25 pp for every additional hour and include the below premium spirits, refereshing cocktails and non-alcoholic mocktails.
Vodka: Belvedere, Grey Goose
Gin: Tanqueray, Hendrick's
Tequila: Patron Silver, Don Julio Blanco
Rum: Havana Club, Captian Morgan
Single Malt: Gelnmorangie
Scotch: Dewar's 12 years Blended Scotch
Bourbon: Maker's Mark
Whiskey: Johnnie Walker Black Label, The Macallan 12 years
*Champagne orders are available upon request
**Soft drinks, juices, still & sparkling water are included.
Our Wine & Beer Bar Services cost $35 per person for the first two hours and $20 pp for every additional hour and include your choice of two types of wine and two types of beer from the list below.
Frizzante
Ruffino Prosecco DOC
Rosé
Fontezoppa Frapicci Sangiovese 2015
Whispering Angel- Caves D'esclans 2015
Bianco
Antinori- Tormaresca Chardonnay 2014
Vigneti Cliffhanger Pinit Grigio
Santa Cristina Campogrande Orvieto
La Formica Soave 2014
Rosso
Pertinage Barberra D'Alba D.O.C 2013
Blackstone Cabernet Sauvignon 2014
Sasyr Sangiovese Syrah Blend 2012
Murola Montepulciano D'Abruzzo 2013
Tenute Mater Domini Marangi Primitivo 2012
Birra
Peroni, Moretti, Heineken, Pilsner Urquel
*Soft drinks, juices, water are included.
For more information and questions about our event services, please contact us at catering@mangia.nyc or call us at 212.980.6363.
We are looking forward to planning the perfect summer event for you!
Love. Always. Mangia.