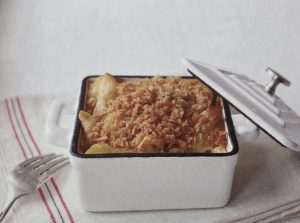 Mac and cheese need no introduction. It is childhood in a casserole dish. As an adult, you'll find it still hits the spot when you're craving a taste of comfort. IN my version, the penne pasta gives a firm chewy bite, while the delicate panko (Japanese breadcrumbs) gives it a light buttery crust.
6 tablespoons unsalted butter, plus more for the baking dish
Salt
1 pound penne pasta
1/2 cup all-purpose flour
4 cups milk
2 cups grated Cruyere cheese
1 cup grated Parmesan cheese
Pinch of freshly grated nutmeg
Freshly ground black pepper
1 cup panko
Preheat the oven to 375 degrees F. Grease a shallow 3- to 4-quart baking dish with butter. Bring a pot of salted water to a boil and add the pasta. Cook 1 to 2 minutes less than the package instructions for al dente. Drain and set aside.
In a medium saucepan, melt the butter over medium heat. Reserve 2 tablespoons of the melted butter in a small dish. Whisk the flour and milk into the pan, and, whisking continuously, bring the mixture to a boil, then reduce the heat and simmer until thickened, about 2 minutes.
Remove the sauce from the heat and whisk in the cheeses and nutmeg; season generously with salt and pepper. Toss the pasta with the sauce, coating well, and transfer to the baking dish. Toss the panko with the reserved butter and scatter over the pasta. Transfer to the oven and bake until the top is browned and the sauce is bubbling 20 to 25 minutes. Let cool for a few minutes before serving.