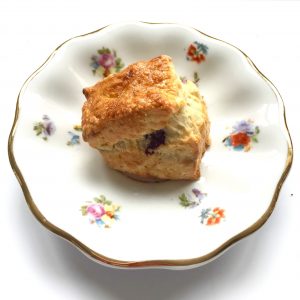 This classic scone is one of the first we ever made when we opened in 1981, and one of our most popular baked goods for breakfast.
Buttermilk, which we use in all our scone recipes, creates a more tender crumb than regular milk does and adds a slightly tangy flavor.
The golden raisins make them just sweet enough and add visual appeal. Fresh out of the oven, these are irresistible topped with softened butter, a fruit preserve, or, for a special treat, mascarpone cheese at room temperature.
What you will need:
3 ½ cups all-purpose flour
1 tablespoon plus ¾ teaspoon baking powder
½ teaspoon salt
½ pound (2 sticks) cold unsalted butter
-1 ¼ cups golden raisins
3 large eggs
½ cup of sugar
-¾ cup buttermilk
For the glaze:
1 egg yolk
1 tablespoon milk
Instructions:
Preheat the over to 400 degrees F. Have ready a large ungreased baking sheet
In a large bowl, combine the flour, baking powder, and salt; stir to blend
Cut the butter into small pieces. Add to the dry ingredients, working it in with the tips of your fingers or a pastry blender until the mixture resembles coarse crumbs. Stir in the golden raisins.
In a medium bowl, beat the eggs lightly. Add the sugar and buttermilk and stir until combined. Add the wet ingredients to the dry ones, stirring just until incorporated. (The dough will be wet and sticky, with visible streaks of flour).
Turn the dough out onto a lightly floured surface and knead it 6 or 7 times, until uniform and soft. Divide the dough into 3 equal pieces. Pat each piece, one at a time, into a 4-inch square. With a knife, quarter the square. Place the quarters, 1 inch apart, on the baking sheet. Repeat with the remaining pieces of dough.
Make the glaze. In a small bowl, beat the egg yolk and milk. Brush the tops of the scones with the egg glaze.
Bake the scones about 20 minutes, until they turn golden. The scones are best served warm, with your favorite spread. Store them in an airtight container or, tightly wrapped in plastic, in the refrigerator or freezer. See more details and tips below.
VARIATIONS
Fresh Blueberry Scones
Omit the golden raisins and substitute 1 cup picked-over fresh blueberries, rinsed and dried. Shape, bake, and serve the scones as directed above.
Date Scones
Omit the golden raisins and substitute 1 ½ cups chopped pitted dried dates. Add 2 teaspoons freshly grated orange zest to the wet ingredients. Shape, bake and serve the scones as directed above.
To store and refresh scones
Scones can be stored in an airtight container for up to 8 hours. To store them overnight, refrigerate them, tightly wrapped in plastic. Reheat before serving: Remove the plastic wrap; then wrap them in aluminum foil, and place in a preheated 350 degree F oven for 15 minutes until hot.
You can also freeze scones with excellent results. Wrap them well in plastic wrap and store them in the freezer for not more than 2 months —– longer than that and they lose their flavor. To reheat, let the scones defrost for 15 minutes. Then proceed as you would for refrigerated scones, but hear them for about 20 minutes.
Love. Always. Mangia.