YELLOW TOMATO SOUP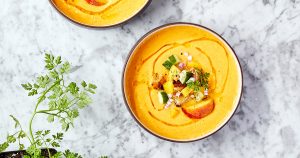 "If soup with both extraordinary color and flavor sounds intriguing, then make this, when you do, use only ripe yellow tomatoes. Anything less, and you will be disappointed," suggests founder of Mangia, Sasha Muniak. 
Of course, you can also make this with red tomatoes, but you'll miss out on the color, which is part of the pleasure. 
With the exception of toasting the peppers, which can be done ahead of time, no other cooking is required here. Raw tomatoes and garlic are blended together until smooth, crushed tomatoes are added for texture, and that is basically ir. Serve just as is, no chilling required, as a luncheon entree on a summer afternoon with toasted slices of country bread topped with mashed anchovies and a few capers. 
Ingredients
2 yellow bell peppers, roasted, skinned, seeded, and cored
12 ripe yellow tomatoes
2 garlic cloves
1 cup tender basil leaves, for serving
½ cup of water, as needed
1 tablespoon salt
1 tablespoon freshly ground black pepper
3 tablespoons of extra-virgin olive oil, plus additional for serving
1 cup heavy cream, for serving
Cut the roasted peppers into strips; reserve for serving.

Wash, trim, and quarter the tomatoes. Peel and trim the garlic. Wash and pick off the most tender leaves of basil; reserve. 

In a food processor or a blender, puree one-quarter of the tomatoes and the garlic, adding water only if necessary for pureeing. Transfer to a large bowl. 

In batches, using the on/off button, process the remaining tomatoes to a chunky, thick, consistency. Add to the puree, then add the salt and pepper, and stir to combine well.

To serve, ladle soup into each bowl. In the center of each serving, drop a few basil leaves; then make a nest with some of the roasted pepper strips. Drizzle with olive oil and add a splash of heavy cream. (Do not stir the cream into the soup, because that might disturb the presentation.) Serve immediately, with additional heavy cream and olive oil on the table. 
Serves 6
Note: Because this soup is fresh and contains raw ingredients, it should be served on the day it was made.