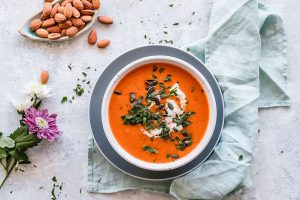 "When made classically, bisque is a thick, creamy, super-rich seafood soup," says founder of Mangia Sasha Muniak. At one time, a cup of bisque set the stage from still richer things to come. Times have changed, though, and so have people's preferences, including our own. We kept the seafood, but cut down way back on the amount of cream, with no loss to either texture or flavor. Easy to prepare and slightly retro but still very au courant, this stands beautifully on its own, as a main course bowl. Or use it as a first course and pull out all the stops: Capitalize on the bisque's intriguing pink color by garnishing the bowls with snipped chives, the blossoms still attached. A roasted or grilled fish entree to follow would work just fine. 
Ingredients:
1 small white onion
2 garlic cloves
1 large baking potato
4 plum tomatoes
3 tablespoons unsalted butter
Pinch of saffron threads
½ cup dry white wine
6 cups clam juice
½ tablespoon cayenne
1 ½ pounds baby shrimp, peeled
½ cup heavy cream
Peel, trim, and finely dice the onion. Peel, trim, and slice the garlic. Peel and cut the potato into small chunks. Wash, trim, seed, and chop the tomatoes.

In a large, heavy pot, saute the onion in the butter over low heat, stirring until translucent. Add the garlic, and saute it, stirring, for 3 to 5 minutes, taking care not to let it burn. Add the tomatoes and saffron and saute for 5 minutes. Add the white wine and cook until the wine has evaporated. 

Stir the clam juice and the cayenne; then add the potatoes and cook until they are tender, about 30 minutes. 

Add the shrimp and bring the soup to a boil. Cover the pot, turn off the heat, and let the bisque cool.

Puree the soup in batches in a blender or food processor. Pour the puree back into the soup pot, place it over medium heat, and simmer the bisque for about 10 minutes to meld the flavors.  

Turn off the heat and stir in the heavy cream until incorporated. Serve immediately.
Serves 6
Prepping in Advance: The bisque can be made 1 day in advance of serving through step 5. Let cool, cover the pot tightly, and refrigerate. When ready to serve, bring the soup to a gentle boil, turn off the heat under the pot, and stir in the cream. Serve immediately.