Roasted Fennel with Parmigiano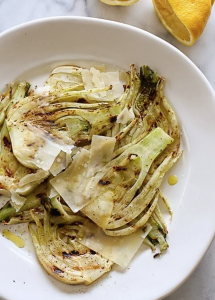 Fennel is crisp when raw and tastes of licorice. When roasted, it mellows in flavor but maintains a nice firmness, which is complemented here with just a simple dusting of Parmigiano. The key to preventing Parmigiano from drying out in the refrigerator? Don't buy too large a piece: The smaller the chunk, the faster it is used, the fresher it stays. 
Ingredients
3 medium fennel bulbs, about 1 pound each
2 tablespoons extra-virgin olive oil
1 teaspoon salt
1 teaspoon freshly ground black pepper
½ cup coarsely grated Parmigiano Reggiano cheese
Preheat the oven to 400 degrees F.

Trim the fennel bulbs, cutting off the fronds, and cut the bulbs in half; then cut into ¼-inch-thick slices from top to bottom. Plae in a bowl and toss with the olive oil, salt, and pepper. Spread the fennel in a single layer on a baking pan and roast for 10 to 15 minutes. 

Sprinkle the Parmigiano over the fennel and roast 10 to 15 minutes longer, until the fennel starts to brown. Remove and serve at room temperature. 
Serves 6