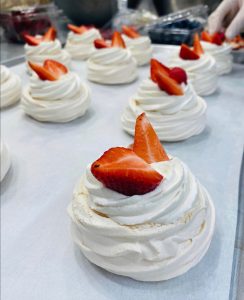 Strawberry pavlova is the perfect light dessert. the meringue cake is topped with Chantilly cream, delicious strawberry sauce and fresh strawberries. The meringue disk is baked only enough to crisp up the outside while leaving the inside marshmallowy and soft. Here are our tips on how to make this dreamy dessert at home:
Start with room temperature egg whites, they whip up better.
Whip the egg whites and sugar until the meringue is very glossy and fluffy. Whip for at least the amount of time listed in the recipe. If you're using a hand mixer increase the whipping time.
Use parchment paper for easy removal of the cake from the baking surface.
Dry the meringue on low temperature for the whitest meringue. The higher the temp the more yellow the meringue will be. If the convection setting is available, use it.
Make the Pavlova base on the day you plan to serve it for best results.
Do not overwhip the heavy whipping cream topping or it will be hard, instead of light and fluffy.
The pavlova base can be made 1-2 days ahead and kept in an airtight container, or the oven with the light on. The meringue will not keep very well in high humidity. Do not fill until ready to serve, for best results.
Now let's get to the recipe! Hope you enjoy!
How to make Strawberry Pavlova
Make the meringue, transfer to a parchment lined baking sheet and bake for about 1 hour at 225F degrees.
Make 1/2 the recipe of the strawberry topping. Allow to cool.
Whip the heavy whipping cream and vanilla extract until soft peaks form.
Top the cooled pavlova with whipped cream, strawberry topping and cut up strawberries.

Instructions

How to make Strawberry Pavlova

Whip meringue: In a large mixer bowl combine the egg whites, cream of tartar and sugar then whip for 15-20 minutes or until the meringue looks glossy, and has stiff peaks (whichever comes last).

Prep: Meanwhile preheat the oven to 350F, with the baking rack in the middle. Using a pencil trace an 8-inch circle on a piece of parchment, turn it over and set over a baking sheet. Set aside.

Transfer & Bake: Transfer the whipped meringue into the traced 8-inch circle on parchment, trying to stay within the edges. Transfer to the oven and reduce the heat to 225F. Bake for 1 hour. Then turn the heat off and allow to cool for 30 minutes before removing from the oven and allowing to cool completely.

How to make the Chantily Cream

Combine the whipping cream and vanilla extract in a bowl of mixer, then whip until soft peaks form.

Layer the Pavlova

Carefully transfer the pavlova meringue to the serving platter. Top with the Chantily cream, then spread 1/2 cup of the Strawberry Sauce. Lastly, sprinkle with 2 cups of chopped, fresh strawberries.

For best results serve immediately or within 1-2 hours. Refrigerate until ready to serve if not serving right away.

Ingredients

Pavlova Recipe

6

egg whites, from large eggs

1 3/4

cups

granulated sugar

1

tsp

cream of tartar

Strawberry Sauce

1/2

lb

strawberries, rinsed, cut up into 4

2.5

tbsp

granulated sugar

1

tsp

lemon juice

Whipped Chantily Cream

1 1/2

cup

heavy whipping cream

1

tsp

vanilla extract