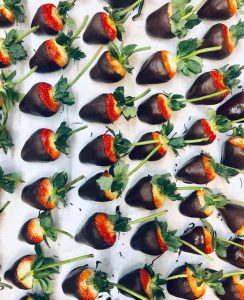 Everybody loves chocolate dipped strawberries! Especially in the summertime, they are the perfect little sweet, fresh choice that will offer you the guilt-free. low calories sugar kick.
The good news is that chocolate dipped strawberries are easy to make and we are delighted to share with you today our simple recipe steps:
Put the semisweet and white chocolates into two separate heatproof medium bowls.
Fill two medium saucepans with a couple of inches of water and bring to a simmer over medium heat.
Turn off the heat; set the bowls of chocolate over the water to melt.
Stir until smooth. Or, alternatively, melt the chocolates in a microwave at half power, for one minute, stir and then heat for another minute or until melted.
Once the chocolates are melted and smooth, remove from the heat.
Line a sheet pan with parchment or waxed paper. Holding the strawberry by the stem, dip the fruit into the dark chocolate, lift and twist slightly, letting any excess chocolate fall back into the bowl.
Set strawberries on the parchment paper.
Repeat with the rest of the strawberries.
Dip a fork in the white chocolate and drizzle the white chocolate over the dipped strawberries.
Set the strawberries aside until the chocolate sets for about thirty minutes.
Ta-da! Let us know your guests' feedback and if you have any questions on the recipe at catering@mangia.nyc