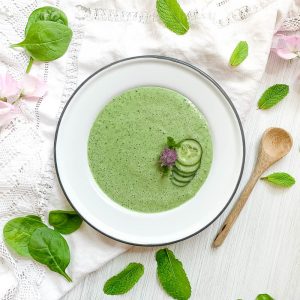 Many chilled soups, including some of today's "politically correct," scaled-down chilled soups, are often made with some cream. Here, though, is one without a drop, with no fat to speak of at all, in fact. Cucumber and yogurt star here. "When combined and chilled until icy, they make for a wonderfully refreshing main bowl or starter with just the right crunch and flavor for the dog days, whenever they occur," states Sasha Muniak, founder of Mangia. And while chilled soups, in general, are easy on the cook, this one should not be prepared way in advance before serving. It will become watery. Cucumbers are about 95 percent water, and there is water in the soup as well. In short, make, chill as directed, serve, and enjoy.
Ingredients
6 large cucumbers
1 small garlic clove
5 whole scallions
3 lemons
2 cups water
1 tablespoon salt
1 teaspoon freshly ground black pepper
½ teaspoon chili powder
2 cups low-fat or nonfat plain yogurt
½ cup chopped dill
Peel the cucumbers, quarter them lengthwise, and with a paring knife, cut out the seeds on each spear. Chop 4 spears into small dice; reserve for garnish. Cut the remaining spears into large chunks. 

Peel the garlic. Trim and slice the scallions, both green and white parts. 

Cut 1 lemon crosswise into 6 thin slices; reserve for garnish. Juice the remaining 2 lemons. (It will be easier to do if you first roll the lemons with the palm of your hand on a hard surface, softening them for squeezing. This works for juicing oranges and grapefruit, too.)

In a blender or food processor, puree the large chunks of cucumber with water, lemon juice, scallions, garlic, salt, pepper, and chili powder. Transfer the puree to a medium bowl, stir the yogurt, and continue stirring until combined. Taste for seasoning. Cover and chill for 2 hours. 

To serve, ladle the chilled soup into chilled bowls, float a slice of lemon on each serving, and sprinkle with the remaining diced cucumber and the dill.
Serves 6