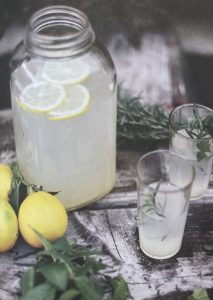 Lemonade is inherently refreshing, so it's hard to imagine it could get any better. That's what I thought until on a whim I decided to throw a handful of herbs from the garden into my glass. The combination of citrus and herbs is astounding, adding the depth and bright flavors to a classic beverage. Experiment with whatever herb is overflowing in your garden or farmer's market. To transform this lemonade into a sophisticated cocktail, feel free to spike it with your favorite spirits.
1 cup sugar
4 cups water
1 bunch mixed fresh herbs (I like mint, basil, and rosemary), plus more for garnish
1 cup fresh lemon juice (from 5 to 6 lemons)
1 lemon, sliced into rounds
Combine the sugar, 1 cup of water, and the herbs in a small saucepan. Place over medium heat, bring to a simmer, and simmer, stirring until the sugar has dissolved. Set aside to cool and let the herbs steep for 15 minutes. Strain the herbal simple syrup into a jar and discard the herbs. The herbal simple syrup can be stored in the refrigerator for up to 2 weeks.
Fill a large pitcher with ice and pour in the remaining 3 cups water with the lemon juice. Start by adding 1/2 cup herbal simple syrup, taste, and add more if you like, until it's sweet enough for you to taste. Finish with the lemon slices and sprigs of fresh herbs.