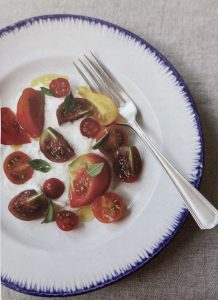 When heirloom tomatoes are in season, they need nothing but a sprinkle of salt to be enjoyed; hence this classic combination: tomatoes + mozzarella + basil. In this recipe, I've used burrata cheese, which has an outer shell of solid mozzarella and an oozy creamy interior made of a combination of mozzarella and cream. It melts in your mouth and complements the tangy sweetness of the tomatoes. Simple ingredients at their best are all that's needed for a dish to inspire. Prepare this recipe with whatever tomato varieties grace your market or your garden this season.
4 large mixed heirloom tomatoes
8 ounces burrata mozzarella or another fresh mozzarella, sliced
High-quality extra virgin olive oil for drizzling
Flaky salt, preferably Maldon
Freshly ground black pepper
1/2 cup fresh basil leaves, roughly torn
Core the tomatoes and cut them into wedges. Arrange the tomatoes on a platter layered with slices of burrata and drizzle with olive oil. Let stand at room temperature for 20 minutes. Finish with some salt and pepper and top with the basil.