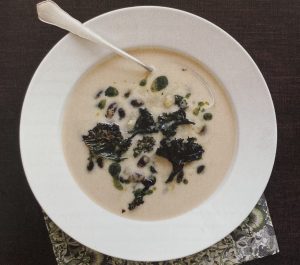 Heirloom beans, in a variety of shapes and sizes, a rainbow of colors, and speckled patterns, are almost too beautiful to cook. These beans are often found through seed banks-organizations that save seeds from extinction and contamination. There's been a resurgence of nearly extinct bean varieties in recent years, and I've been happily experimenting with them. My favorites come from Rancho Gordo located in Napa, California, and can be bought at natural and specialty food markets or ordered online. I love great Northern beans in this recipe, but any white heirloom or more commonly found cannellini can be used.
8 ounces dried white heirloom beans
1 bunch kale
14 cup plus 2 tablespoons extra virgin olive oil
Salt and freshly ground black pepper
2 shallots, thinly sliced
2 garlic cloves, minced
Splash of dry white wine
1-quart Basic Vegetable Stock or good-quality packaged broth
1 bay leaf
Parsley Oil
CRISPY KALE CHIPS makes a great healthy snack on their own. Feel free to experiment with different toppings such as grated Parmesan cheese, soy sauce, and sesame seeds, Herbes de Provence, or lime juice and chili powder.
Place the beans in a bowl, add water to cover by a few inches, and soak the beans for at least 6 hours or overnight. Drain and set aside.
Preheat the oven to 300 degrees F. Line a baking sheet with parchment paper. Wash and thoroughly dry the kale. Remove the stems from the kale and tear the leaves into large pieces. Toss with 1/4 cup of the olive oil, season with salt and pepper, arrange in a single later on the prepared baking sheet. Roast until darkened a bit and crisp, about 20 minutes, tossing occasionally and taking care not to let it burn.
Heat the remaining 2 tablespoons olive oil in a large saucepan over medium heat. Add the shallots and saute until translucent, about 3 minutes. Stir in the garlic and cook for another 2 minutes, or until softened. Splash a bit of white wine into the pot and use a wooden spoon to loosen up any bits stuck to the bottom. Add the beans, vegetable stock, and bay leaf, bring to a boil, then reduce the heat and simmer gently for 40 to 50 minutes, until the beans are cooked through. Remove the bay leaf.
Remove a cup or so of beans with a slotted spoon and set aside. Puree the soup in batches in a blender or using an immersion blender until smooth. Season with salt and pepper. To serve, ladle the soup into bowls and top each with some whole beans, crisp kale, and a drizzle of parsley oil.
PARSLEY OIL CAN ALSO BE TOSSED with pasta dishes, made into a salad dressing by adding a dash of vinegar, or used to make chimichurri sauce by adding minced garlic cloves and lemon to serve with grilled meats.
Makes 1/4 cup
1/4 cup extra virgin olive oil, 1/2 cup lightly packed fresh parsley leaves, salt, and freshly ground black pepper.
In a mini food processor, pulse the olive oil with the parsley until it has a smooth consistency. Transfer to a bowl, season with salt and pepper, and set aside until ready to use.