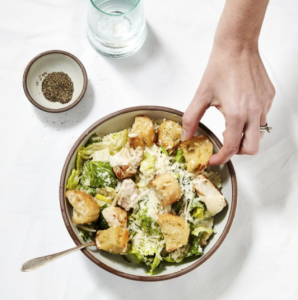 Grilled Radicchio with Parmigiano Shavings and Anchovy Croutons
This is a variation on the classic Caesar Salad, with grilled radicchio replacing the traditional romaine. By grilling radicchio, red-leafed chicory, you lose some of its slightly bitter taste. You can also pan-sear it if you like. The radicchio is best grilled shortly before serving. The croutons and cheese, though, can both be prepared ahead of time. And even if you are not all that keen on anchovies, try the croutons once. You won't believe the amount of flavor they add to a salad. 
Ingredients
1 small loaf of stale country-style bread or ½ baguette
1 cup extra-virgin olive oil, plus additional for grilling
2 garlic cloves, peeled
4 anchovy fillets packed in oil
3 large heads radicchio
Salt
Freshly ground black pepper
1 piece Parmigiano-Reggiano cheese, 3 ounces
Juice of 2 lemons
Preheat the oven to 325 degrees F.

Cut the bread into 1-inch cubes. (You will need 4 cups.)

In a food processor, combine 1 cup of the olive oil, the garlic cloves, and anchovies and process to a paste. Scrape the paste into a wide bowl, add the bread cubes, and toss to coat. Spread the bread cubes on a baking sheet and bake, turning them halfway through baking, until the croutons are golden and crisp, about 30 minutes. Let cool.

Preheat the grill or heat a large skillet or grill pan on the stovetop. 

Remove the core from each head of the radicchio and separate the leaves. Toss the leaves with a little extra-virgin olive oil and salt and pepper to taste. Place the leaves on the rack of the grill over medium-hot fire and grill just until they start to wilt, about 3 minutes, turning as needed. Remove as done with long-handled tongs and let cool. 
If pan-searing or grilled on the stovetop: Place as many as will fit without crowding in the pan or on the grill pan and cook over high heat until they start to wilt, turning as needed. Remove with tongs and let cool. 
Put the grilled radicchio in a large bowl and juice the lemons, through a strainer, over it. 

Using a vegetable peeler or box grater, cut the Parmigiano into savings and add them to the radicchio. Add the croutons and a grinding of fresh black pepper to taste. Transfer the salad to a platter and serve immediately. 
Serves 6