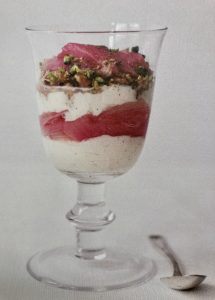 In the early spring, rhubarb is a hot commodity at the farmers' market-its season is brief and it's a sign of warmer weather to come. Crisp and tart, rhubarb awakens the taste buds that winter held hostage and lends itself perfectly to spring and summer appetites. 
Rhubarb is commonly simmered with sugar and made into a filling for a pie, but here we were thinking outside the crust and decided upon a parfait instead. Married with lemon, the rhubarb's tart edge is brightened, creating a beautifully flavored and pink-kissed compote. This compote would be equally lovely served alongside a selection of local cheeses, stewed into a sauce, or served with a scoop of ice cream. 
1 pound rhubarb, peeled and cut into 1/2-inch pieces
2 cups Gewurztraniuber or sweet Riesling wine
1 cup granulated sugar
One 3-inch piece ginger, sliced
Peel of 1 lemon
1 cup mascarpone cheese, at room temperature 
1 tablespoon confectioner's sugar
Grated zest and juice of 1 orange
1 vanilla bean, split and seeds scraped
1 cup granola (I like Nature's Path granola)
2 tablespoons pistachios, toasted and chopped
Preheat the oven to 400 degrees F. 
Place the rhubarb, wine granulated sugar, ginger, and lemon peel in a 9 x 13-inch baking dish and gently toss to combine. Place in the oven and bake for 45 minutes. Remove from the oven and set aside.
In a medium bowl, combine the mascarpone, confectioners' sugar, orange zest and juice, and the seeds from the vanilla bean and stir until well combined. Create 4 parfaits by layering the ingredients in glass in the following order: rhubarb compote, mascarpone cream, and granola. Garnish with pistachios and serve.