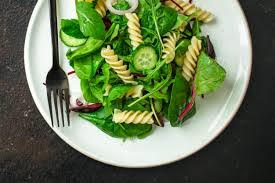 When provolone is young, the cheese is fine and soft, best used as a table cheese. After about a year, it becomes drier and pungent, acquiring a strong, concentrated flavor that is reminiscent of Parmigiano but much sharper. The sauteed greens bring a slightly bitter but mellow flavor that tempers the provolone. 
Gemelli, which means "twins" in Italian, are intertwined twists of pasta. They are a little different and because of that bring some extra to this salad. Most supermarkets have them, but if yours doesn't, use fusilli.
Ingredients
2 heads radicchio, about 6 ounces each
2 cups firmly packed spinach leaves
2 cups firmly packed escarole leaves
2 garlic cloves
¾ cup extra-virgin olive oil
1 ½ pounds gemelli
1 cup coarsely grated aged provolone 
1 teaspoon freshly ground black pepper
Separate the leaves of each radicchio from the core, and discard the core. Wash the leaves, pat dry, and coarsely chop.

Wash the spinach and escarole. Cut the stems off the spinach. Pat the greens dry and coarsely chop. Peel, trim, and thinly slice the garlic.

In a large skillet, cook the garlic in the olive oil over low heat, stirring, until softened, but do not let it brown. Add the radicchio, spinach, and escarole and cook them, turning with long kitchen tongs, until wilted. Remove the pan from the what and let it cool. 

Bring a large pot of salted water to a boil. Add the pasta, stir to separate, and cook over high heat for 10 minutes, until al dente. (Or follow the cooking directions on the package.) Drain the pasta in a colander. To prevent the pasta from sticking together, spread it out on a large baking sheet or platter and let it cool, about 15 minutes. Cover and hold at room temperature for up to 3 hours. 

Transfer the pasta to a large ceramic pasta bowl. Add the sauteed greens with the oil and any juices in the pan, and mix thoroughly. Add the provolone and pepper and toss well to combine. Serve within 2 hours. 
Serves 6