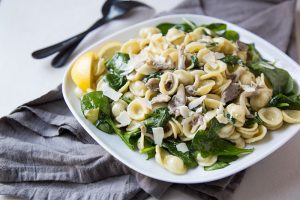 Pesto makes this salad a lovely shade of green. The leeks and oyster mushrooms give it a pastel variation. Serve it on a white platter for maximum effect. Remember that pesto turns black if left to stand at room temperature, which makes this combination a mandatory dress-and-serve. 
Ingredients
2 medium leeks
½ pound oyster mushrooms
2 tablespoons extra-virgin olive oil
½ cup chicken broth
½ teaspoon freshly ground pepper
1 ½ pounds fusilli
Classic pesto
Trim the root ends and most of the greens off the leeks and discard. Cut the leeks in half lengthwise and rinse well under running water. Slice each leek half into ¼-inch-thick slices. Put the slices in a colander and rinse well under running water to remove all grit and sand. Drain well in the colander. 

Rinse the mushrooms and chop very coarsely.

In a large skillet, saute the leeks in the olive oil over very low heat, stirring, until limp. Add the oyster mushrooms, stir well, then add the chicken broth and pepper. Cover and cook for 15 minutes. Remove the cover, increase the heat to high, and cook, stirring often, until the juices evaporate. Remove the pan from the heat and let the sauce cool.

In the meantime, bring a large pot of salted water to a boil. Add the pasta, stir to separate, and cook for 10 minutes, until al dente. (Or follow the cooking directions on the package.) Drain the pasta in the colander. To prevent the pasta from sticking together, spread it out on a large baking sheet or platter and let it cool, about 15 minutes. Cover and hold at room temperature for up to 3 hours. 

Turn the pasta into a large serving bowl, add the pesto, and the leek and mushroom sauce. And toss well to combine. Serve immediately.
Serves 6