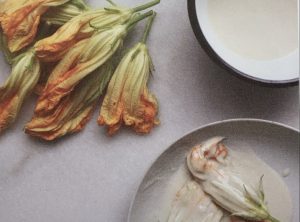 Squash blossoms signal of the arrival of summer. The bright orange blossoms come from summer squash plants like zucchini and are typically served as a stuffed and fried savory appetizer. In our version, we've made it into a dessert, with its delicate battered and fried petals sitting on a dollop of sweetened ricotta.
SPECIAL EQUIPMENT: Deep fry or candy thermometer
FOR THE RICOTTA
1 1/2 cups fresh ricotta cheese
3 tablespoons sugar
Finely grated zest and juice of 1 small orange
Finely grated zest of 1 lemon
FOR THE SQUASH BLOSSOMS
1/2 cup all-purpose flour
2 tablespoons confectioners' sugar, plus more for dusting
Pinch of salt
1/3 cup club soda
6 squash blossoms
Vegetable oil for frying
Honey for drizzling
In a medium bowl, stir together the ricotta, sugar, orange zest and juice, and lemon zest. Set aside until ready to use.
In a separate medium bowl, whisk together the flour, confectioners' sugar, and salt. Whisk in the club soda until just combined. The batter should be runny but thick enough to coat the squash blossoms. In a large pot, heat about 2 inches oil over medium-high heat until it begins to shimmer, and a deep-dry thermometer reads 375 degrees, F. Working in small batches, dip the squash blossoms into the flour batter to coat, then shake off any excess batter. Without crowding the pan, fry the blossoms until golden and crisp, 1 to 2 minutes. Remove with a slotted spoon and transfer to a paper towel-lined plate to drain. Repeat with the remaining squash blossoms. Place a generous dollop of ricotta cream on each plate. Top with the crisp squash blossoms, dust with confectioners' sugar, and drizzle with honey. Serve immediately.