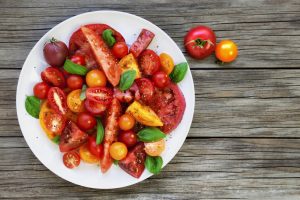 Classic pesto is made with basil. Mint, which is used in the same family, also makes a tasty sauce. Use it as a dressing, as we do here, or as a dip for steamed vegetables, or as a spread on sandwiches. 
There are a couple of key factors to serving marvelous-tasting tomatoes: Start with the best tomatoes you can find, preferably luscious and truly ripe, and do not under any circumstances refrigerate them before using. 
Ingredients
1 cup firmly packed mint leaves
2 garlic cloves
2 tablespoons pine nuts (pignoli)
1 teaspoon salt
½ teaspoon freshly ground pepper
½ to ⅔ cup extra-virgin olive oil
6 medium-sized ripe beefsteak tomatoes
Wash the mint leaves and pat dry them.

In a food processor, combine the mint leaves, garlic, pine nuts, salt, and pepper. With the machine running, gradually add the olive oil in a thin stream. Add just enough oil (about ½ cup) so that the sauce has a consistency that can be spooned. 

Wash, core, and slice the tomatoes ¼ inch thick. Arrange the tomato slices, overlapping them slightly, on a serving platter. With a spoon, drizzle the pesto over the tomatoes. The salad can stand up to 1 hour at room temperature before serving. 
Serves 6