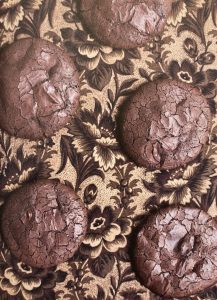 Rich, decadent, and moist, these flourless cookies are the answer to any and all chocolate cravings. This recipe is a simple one to make and will have everyone who partakes begging for more. These cookies demand to be eaten straight out of the oven when the caramel is still warm and gooey.
SPECIAL EQUIPMENT: 1 1/20inch cookies scoop
2 cups confectioners' sugar
1 cup unsweetened cocoa powder (1 like Valrhona brand)
1/4 teaspoon salt
1/2 teaspoon baking powder
3 large egg whites, at room temperature
1 teaspoon vanilla extract
6 caramel squares, halved
Preheat the oven to 300 degrees F.
In a large bowl, using an electric mixer on low speed to medium and add the egg whites and vanilla extract. Beat until the batter just comes together, but do not overheat.
Shape the caramel halves into small discs. With the cookies scoop or spoon, scoop the batter and press a caramel disc into the center before dropping it onto a parchment0lined baking sheet. Leave 2 inches between each cookie. Bake for 10 to 12 minutes, until the tops are cracked and glossy. Transfer the cookies to a wire cooling rack. The cookies can be stored in an airtight container for up to 5 days.