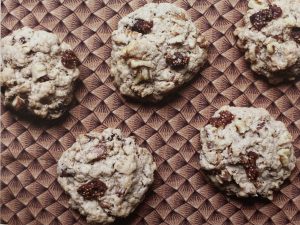 There's something about the chew of an oatmeal cookie. They are tender, and their sweetness never cloys. For this recipe, I've included figs for a bit of subtle sweetness, and walnuts for a boost of crunch. When taken out of the oven, the toasted oats and the roasted walnuts together smell like browned butter. These morsels are delicious straight off the cooling rack, with a scoop of ice cream, or for breakfast the next morning.
1 cup all-purpose flour
1/2 teaspoon baking powder
1/4 teaspoon baking soda
1/2 teaspoon nutmeg
Pinch of salt
1/2 cup unsalted butter, softened
2/3 cup packed light-brown sugar
1/3 cup granulated sugar
1 large egg
1 teaspoon vanilla extract
1 1/2 cups old-fashioned rolled oats
1/2 cup dried Mission figs, stems, discarded, chopped
1/2 cup walnuts, chopped
Preheat the oven to 350 degrees F.
In a large bowl, mix together the flour, baking powder, baking soda, cinnamon, nutmeg, and salt. In another bowl, using an electric mixer on medium speed beat the butter and sugars until pale and fluffy. Add the egg and vanilla to the mixture. Gradually mix in the flour mixture and oats. Gently fold the figs and walnuts into the mixture. Drop the dough by the spoonful onto parchment-lined baking sheets, leaving a 2-inch space between cookies. Bake until the edges are golden, about 15 to 18 minutes. Transfer the cookies to a wire cooling rack. The cookies can be stored in an airtight container for up to 5 days.