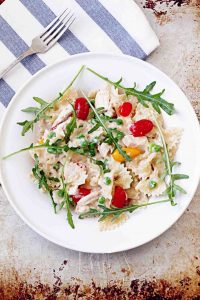 This is a recipe that uses the magnificent leaves, the greens, of the beet. 
Ingredients
2 cup firmly packed arugula leaves
2 cups firmly packed spinach leaves
2 cups firmly packed beet greens
2 garlic cloves
Grated zest and juice of 2 large lemons
½ cup extra-virgin olive oil
3 tablespoons unsalted butter
½ cup chicken broth
1 ½ pounds farfalle
1 cup grated Pecorino Romano cheese
Cut off the stems of the arugula and spinach. Wash the leaves well, pat, dry, and coarsely chop.

Wash the beet greens. Cut off the stems, chop them, and reserve. Coarsely chop the greens. 

Peel, trim, and finely chop the garlic. Grate the zest of the lemon; reserve for the lemon juice.

In a large skillet, saute the garlic in the olive oil over medium heat, stirring, until softened, but do not let it brown. Add the butter and half of the lemon juice and cook for 1 minute. Add the chicken broth, and stir well to combine. Add the beet greens and stems and cook for 3 minutes. Next add the arugula and spinach, a little at a time, letting each addition wilt before adding the next. Cover and cook over medium heat for 5 minutes. Remove the pan from the heat, and remove the cover. Let cool.

In the meantime, bring a pot of salted water to a boil. Add the pasta, stir to separate, and cook over high heat for 10 minutes, until al dente. Drain in a colander. To prevent the pasta from sticking together, spread it out on a large baking sheet or platter and let it cool, about 15 minutes. Cover and hold at room temperature for 30 minutes. 

Transfer the pasta to a large porcelain serving bowl. Add the sauteed greens and toss well to combine. Add the Pecorino Romano, a little at a time, tossing to combine; add the lemon zest, the remaining lemon juice, and toss again. Serve within two hours. 
Serves 6