This salad—an antipasto or main course—has always been very popular at Mangia. Plan ahead when making this: The salad needs to marinate 1 day in advance of serving. 
Ingredients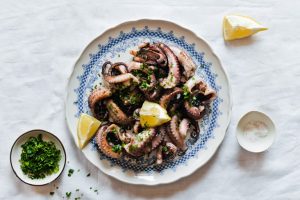 1 small onion
2 lemons
5 garlic cloves
3 bay leaves
2 thyme sprigs
¼ teaspoon whole peppercorns
3 ½ pounds cleaned fresh octopus 
1 cup extra-virgin olive oil
½ cup fresh lemon juice
F O R   T H E   S A L S A
3 medium red bell peppers
6 tablespoons extra-virgin olive oil
2 tablespoons fresh lemon juice 
2 tablespoons drained capers
½ cup chopped flat-leaf parsley 
Salt
Freshly cracked black pepper
Slice the onion and lemons. Peel and then smash 3 of the garlic cloves.

Fill a large pot with the water (enough to cover the octopus) and add the smashed garlic cloves, sliced onion and lemons, bay leaves, thyme sprigs, and peppercorns. Bring the water to a boil and simmer for 20 minutes. 

Add the octopus to the water and simmer for approximately 1 to 1 ¼ hours, until tender. Drain in a colander, remove the onion, lemons, and seasonings, and let cool. 

While the octopus cooks, peel, trim, and mince the remaining 2 garlic cloves. Put in a large ceramic or glass bowl and stir in the olive oil and lemon juice. 

When the octopus is cool enough to handle, peel off the purple outer skin from the tentacles. Cut the tentacles into bite-sized pieces and add them to the oil and lemon juice marinade. Stir well to combine, cover, and let marinate in the refrigerator overnight. Before serving, make the salsa: Core, seed, and finely dice the peppers. In a large serving bowl, combine the peppers olive oil, lemon juice, capers, and parsley; toss to combine well. 

Drain the octopus. Add it to the salsa and toss. Season with salt and freshly cracked black pepper to taste. Best served within 1 hour of finishing. 
Serves 6